Ewan McGregor será Kurt Cobain
Ewan McGregor (Big Fish) sería la primera opción para interpretar al cantante de Nirvana, Kurt Cobain, en un film. La viuda de Cobain, Courtney Love, obtuvo los derechos de la Biografía del cantante, muerto en el 94, escrita por Charles Cross. Y ella afrma que de todos los actores, Ewan sería el más indicado. Ewan McGregor is reportedly being lined up to play late Nirvana frontman Kurt Cobain. Cobain's widow Courtney Love has acquired the rights to Charles Cross' celebrated biography on her late husband. She said he`s is the indicated to play Kurt.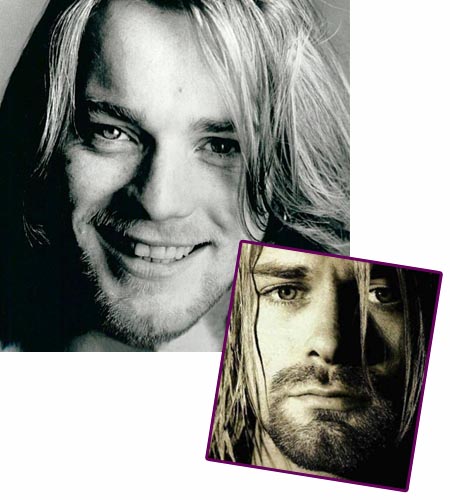 Arriba Ewan, derecha, Kurt.
Esta sería la primera película que hablaría sobre el atormentado Cantante y su suicidio en el año 1994. Suceso que marcó a  una generación (me lo dirán a mi, yo estaba enamorada de Kurt!). This proyect will be the first official film about the tragic rocker, who committed suicide in 1994, and this tragedy marked a whole generation (Gosh, I was in love for him)