Nominaciones al Oscar 2007
Ya fueron dadas a conocer las Nominaciones a los Premios Oscar 2007. La ceremonia final de entrega se llevará a cabo el próximo 25 de febrero en el teatro Kodak, en Los Ángeles. The Academy Awards will be presented on Sunday, February 25, 2007, at the Kodak theatre at Hollywood.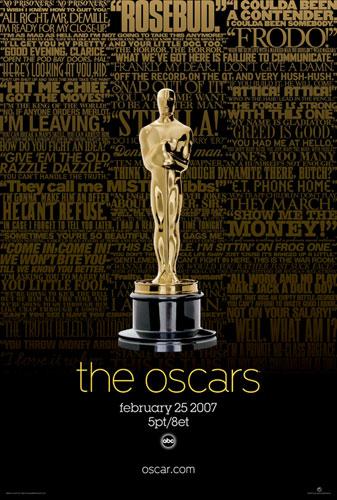 Salma Hayek estuvo allí, junto al Presidente de La Academia de Arte y Ciencias, Sid Ganis,  dando el listado y se emocionó tremendamente cuando anunció la nominación de Penélope Cruz por su actuación en Volver.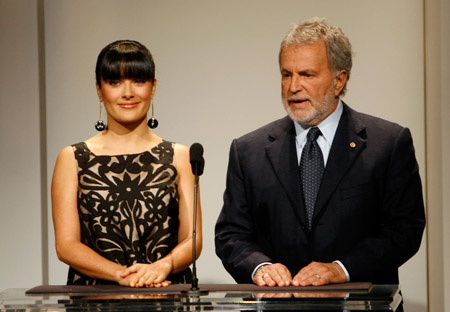 Los Nominaciones por Categoria: Nominations By Category – 79th Awards
Mejor película / Best Motion Picture Of The Year

Cartas desde Iwo Jima (Letters from Iwo Jima)
Los infiltrados (The Departed)
Mejor director / Best Director
Clint Eastwood, por Cartas desde Iwo Jima
Stephen Frears, por La reina
Paul Greengrass, por Vuelo 93
Alejandro González Iñárritu, por Babel
Martin Scorsese, por Los infiltrados

Mejor actor / Performance By An Actor In A Leading Role

Leonardo DiCaprio, por Diamante de sangre
Ryan Gosling, por Half Nelson
Will Smith, por The Pursuit of Happyness
Forest Whitaker, por The Last King of Scotland
Mejor Actor de Reparto /Performance By An Actor In A Supporting Role
Alan Arkin – Little Miss Sunshine
Jackie Earle Haley – Little Children
Djimon Hounsou – Blood Diamond
Eddie Murphy – Dreamgirls
Mark Wahlberg – The Departed
Mejor actriz / Performance By An Actress In A Leading Role
Penélope Cruz, por Volver
Judi Dench, por Escándalo (Notes on a Scandal)
Helen Mirren, por La reina
Meryl Streep, por El diablo viste a la moda (The Devil Wears Prada)
Kate Winslet, por Little Children

Mejor Actriz de Reparto /Performance By An Actress In A Supporting Role
Cate Blanchett – Notes On A Scandal
Abigail Breslin – Little Miss Sunshine
Jennifer Hudson – Dreamgirls
Mejor Película Animada / Animated Feature Film
Cars
Happy Feet
Monster House
Para ver el Restos de los Nominados puedes ir a la web de los Oscar