Salma Hayek : Holly Cow, Batman!
Ayer publiqué la noticia de que Salma se había llevado el Premio al Mejor Busto… well…  mejor  hubiese sido a la Mejor Ubre! En estas fotos Salma parece una vaca. Este vestido no es para ella, se ve anchísima, muchos especulan que parece embarazada… para mi está regorda… Y ese cabello, está de crímen!! Tal vez quería verse como Betty La Fea… mmm Salma La Fea?  Salma, cariño, tú que siempre te ves tan elegante y tan fina, como te atreves a salir a a calle en estas fachas?  I published yesterday, the news of which Salma get the Best Breasts award … well … maybe The Best Udder would be fine .  In these photos Salma looks like a cow. This dress is not for her, many people think she looks to be pregnant … I think she's only FAT… And this hair, AWFUL!! Salma, sweetheart, you that always look so elegant and so spectacular, Why do you go out to the street in this condition? WHY????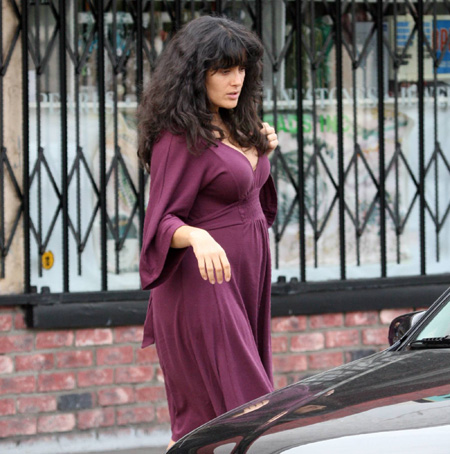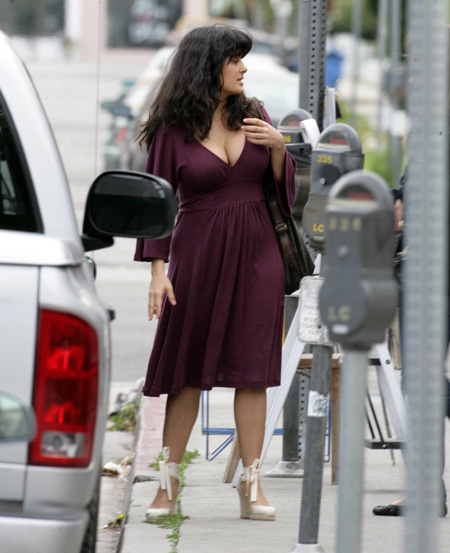 Yo llegué a pensar que era mal ángulo de la foto, pero NO! Salma está enorme!!
I was thinking It was a bad angle… but NOOO, Salma is HUGE!!!