Paris Hilton se enconde… WHAT?
Paris Hilton por primera vez en la vida se esconde de una cámara. Debe ser el fin del mundo… La chica que siempre está interesada en verse bella en la foto sin importar de lo que hablen. Se ha tapado con una toalla para que no la vieran, ni retrataran… tarde, porque igual salió en la foto con la cara grasosa… y sin maquillaje. Paris Hilton hangs her head in shame… OMG! The sky is fallin'! She always is interesting in looking good, beautiful in pictures, this time Paris hid her greasy face underneath a blanket. You know, It is most terrible thing in the world for Paris, looks without makeup than appears naked, smoking pot or in a sex tape.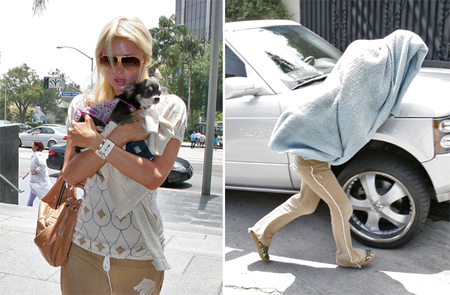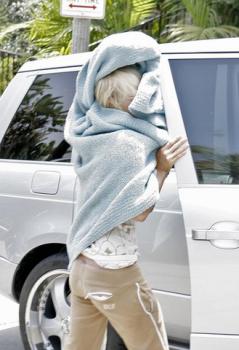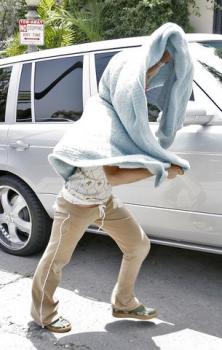 No diré pobre Paris. Yo creo que ella merece la sentencia que le dieron (45 dias), y más. Es simplemente una niña rica malcriada, deberían enviarla a su habitación sin celular, TV, internet, dinero, drogas, ni nada. Prohíbanle salir en su auto (eehh…bueno eso ya) Quítenle las targetas de crédito y dejenla que vaya presa para que aprenda a respetar las leyes. Creo que la niña aprenderá a que el dinero no lo compra todo. Ya saben, como un CEREBRO! Es tan "mente de pollo", que fue y dijo que ella la culpa era de su asistente por no decirle que ella tenía la licencia suspendida, y además remató declarando que los policias siempre se le insinuaban y le coqueteaban… animal! Cállate! Quien te va a defender en la carcel? Por cierto, ahora su sentencia se redujo a 23 dias, de los 45 que debía cumplir, y que por Buen comportamiento. Por favor! Paris rompe las leyes cada vez que puede, si no mirénla en Coachella… fumándose un porro… eeeh! Esto demuestra que no pueden dejarla salir antes… // I don't say Poor Paris. I think she deserves 45 days in jail for her driving offenses, she deserves more that that. Take away the car and let her go to jail so she respects the law and doesn't continue to abuse it. It appears that money can't buy everything… you know like a BRAIN!! She is so stupid!! She not only drives under the influence and blames her publicist, but then she insults the police by saying: "They are hitting on me." OMG! Paris is showing the authorities that there's no reason to let her out early. Paris would only serve half her jail time. WHAT?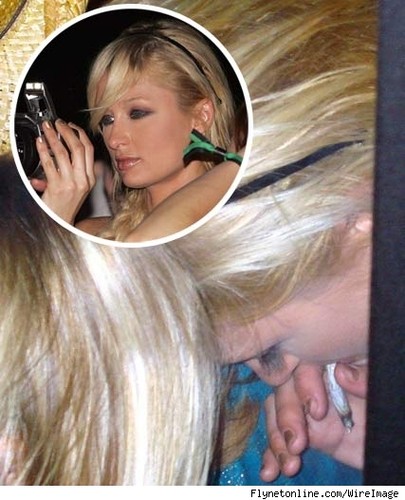 El peor castigo para Paris… que nadie hable de ella!