Lindsay Lohan cancela fiesta de sus 21 años
El representante de Lindsay Lohan le ha dicho a Usmagazine.com que la "Mean Girl" ha cancelado la fiesta para celebrar sus 21 años en la Discoteca Pure el 2 de Julio, en Las Vegas. Lindsay Lon has canceled her 21st birthday party, originally scheduled to go down at PURE nightclub in Las Vegas on July 2.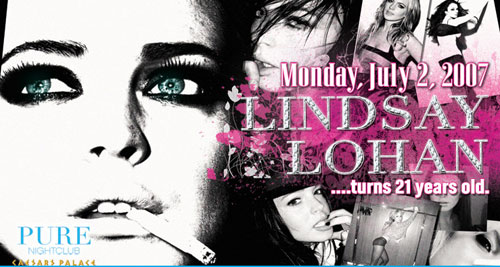 "Lindsay will not be having the birthday party at PURE and is focusing on her recovery 100 percent," Lindsay hará fiesta de cumpleaños en PURE y está enfocándose en su recuperación total.
Por lo menos está tomando buenas decisiones… Y para los que preguntan por qué Lindsay canceló su fiesta… pues ella está en rehabilitación por alcohol y drogas, además estrelló su auto contra unos árboles en Beverly Hills, y no se ve bien que haga una rumba en Las Vegas en una disco con ese background…(por cierto, en qué planeta vives?)
[bgs]Lindsay Lohan, Fiesta, promo[/bgs]