Las Chicas de La mansión Playboy y sus mascotas
Las chicas de la Mansión Playboy (a.k.a Girls Next Door, Girls of the Playboy Mansion) además de sus deberes y obligaciones dentro de la mansión, ya saben, ir de fiestas y estar divinas para Hef, tienen a sus adoradas mascotas. Y es que Kendra Wilkinson, Holly Madison, y Bridget Marquardt son muy protectoras y cariñosas y siempre se les ve con sus perritos y gatito en el caso de Bridget. Algunos amantes del mundo canino tienen curiosidad de saber cuales son las razas de los perritos de las chicas, así que aquí va este artículo 😉 Girls of the Playboy Mansion and their pets. Kendra, Holly and Bridget have dogs, and a cat (Bridget) they are love dogs. Here they tell how they get theirs dogs and why they love so much to them.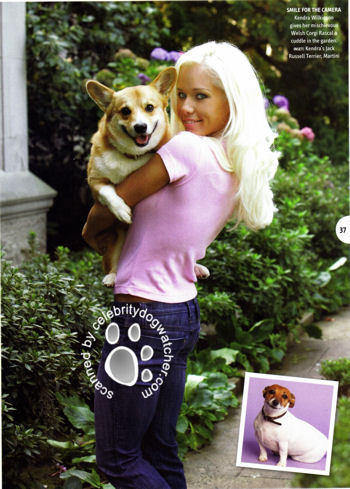 Kendra Wilkinson: Ella trajo a sus dos perritos a la Mansión Playboy – Martini, un Jack Russell Terrier y Rascal, un Welsh Corgi. Ella dice que se queda castigada (casi no viaja) por sus animales y que cuando viajaron por Europa por dos semanas ella no solo estaba nostálgica, tenía nostalgia canina!

She brought her two dogs with her to the Playboy Mansion – Martini, a Jack Russell Terrier and Rascal, a Welsh Corgi. She says she stays grounded through her animals and that when traveling to Europe for two weeks, she just didn't get homesick, she got dogsick!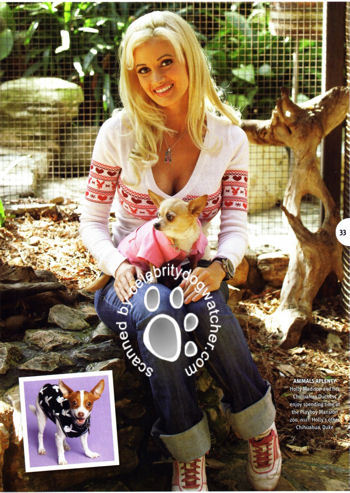 Holly Madison: tiene dos pomeranians, Harlow y Panda. También tiene dos chihuahuas, Duke y Duchess. Duchess es el perrito en sus piernas y Duke el de la foto pequeña. Cuando se le pregunta si ella tiene alguna conexión especial con alguno de los perritos, dice que es más consentidora con Duchess porque fue rescatada de un hogar donde le maltrataban.

Holly has two Pomeranians. Harlow and Panda and two Chihuahua's, Duke and Duchess. That's Duchess in her lap and Duke is shown in the inset picture. When asked if she had a connection with one particular dog, she said she did have a soft spot for Duchess because she was a rescue and came from an abusive background.
Bridget Marquardt: ella era una amante de los gatos cuando llegó a la mansión Playboy, pero no pudo luchar con el sentimiento por mucho tiempo y terminó comprandose un pequeño perrito Pekingnes, llamado Wednesday. Ella tiene un gato llamado Gizmo, cuenta que juegan juntos y duermen cerca el uno del otro.

Bridget was a cat person when she moved into the Playboy mansion but she couldn't fight the feeling for long and she eventually got her own, a little black Pekingese named Wednesday. She also owns a cat named Gizmo and said the two play games and sleep just inches away from each other.