Nicole Richie no sabe quien es el padre de su hijo?
Según un reporte Joel Madden podría no se el padre del hijo que espera Nicole Richie. De acuerdo al The National Enquirer han habido cuatro hombres en la vida de Nicole antes de que ella se enterara de que estaba embarazada. Aparentemente ella no está segura de quien es el padre y espera practicar un examen de partenidad al bebé. Según Dlisted los amores anteriores de Nicole son: Joel Madden, DJ AM, Brody Jenner y Jeff Goldblum! OMG! Pueden imaginar si sale a James! Nicole que se ve tan flaquita y James … el tipo de la Mosca… ewwww… Poor Baby! According to a report Joel Madden may not be the father of Nicole Richie's baby. The National Enquirer will claim that there were four men in Nicole's life before she found out that she was pregnant. Nicole will not know for sure who fathered her child until the potential paternity tests. Dlisted says the four men in Nicole's life are: Joel Madden, DJ AM, Brody Jenner and Jeff Goldblum! Can you imagine if James is the Father? She looks so skinny and sometimes like a zombie and James Goldblum, you Know, The Fly… ewwww… poor baby!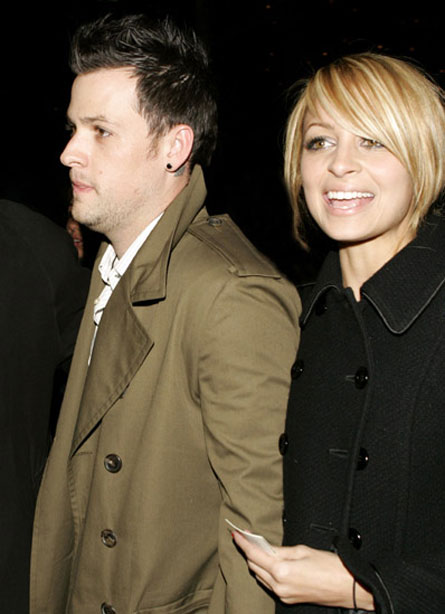 "Nicole recently underwent a series of tests, including blood and urine screenings, which confirmed she is pregnant." Nicole se ha practicado una serie de exámenes recientemente, de sangre y de orina, los cuales confirmaron que está embarazada.
Aunque Nicole Richie no ha confirmado su embarazo, se le ha visto comprando artículos y ropita de bebé en las últimas semanas. Espero que esto no sea una mentira, ella enfrenta serios cargos por DUI. Y casualmente su audiencia fue suspendida hasta dentro de un mes. Though Nicole is yet to officially confirm the pregnancy, she has been busy shopping for baby products in recent weeks.
Nicole hiding her baby bump to paps / Nicole ocultando su barriguita a los paparazzi
photos:CU
[bgs]Nicole Richie, Joel Madden, fotos[/bgs]