Britney Spears es La Madre del Año. Su crisis afecta a sus hijos.
Britney Spears definitivamente se lleva el premio como La Madre del Año. De acuerdo a Us Magazine, los hijos de Britney podrían estar corriendo peligro, su crisis emocional está afectando a sus pequeños, Sean Preston (22 meses) y Jayden James (11 meses). Amigos y familiares de la cantante están sumamente preocupados por sus aptitudes como madre y la manera como está criando a sus hijos. Al parecer Spears no los alimenta balanceadamente, siempre les da pura comida chatarra, doritos y sodas. También se sabe que le ha dado goma de mascar a Sean Preston, con el peligro de asfixia que esto representa en un niño de 22 meses. Y a la hora de dormir en vez de cantarle a Sean, ella le da helado porque el frio le produce sueño. Britney Spears is The Mother of the Year. According to Us Weekly, Brit's boys are afected by her emotional crisis and maybe they are in danger. Spears' friends and family are really concerned about the Brit's mothering skills. Apparently, she "feeds them total crap like Doritos and soda," and Sean's mom has given him chewing gum, a known choking hazard for toddlers. When it comes to bedtime, "She fed Sean ice cream before bed because the cold would make him sleepy."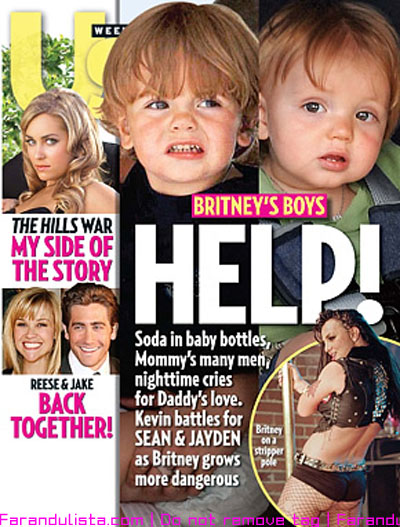 " (Sean) He's having dental problems because Britney just shoves a bottle of juice in his mouth all the time to stop him from crying," Spears "asked an L.A. dentist if he would whiten her kid's teeth!" The dentist refused. (Sean) tiene problemas dentales porque Britney siempre le empuja una botella de jugo en su boca para que deje de llorar. Spears le preguntó a un dentista de L.A si podía blanquearle los dientes a sus hijos.
Definitivamente se volvió loca, ojalá Kevin gane la custodia de sus hijos, ella no merece tenerlos a su lado. Britney en muchísimas ocasiones a demostrada ser irresponsable y muy descuidada con sus pequeños, tenerlos cargados en algunas fotos no es simbolo de que les cuides bien.
[bgs]Britney Spears, fotos[/bgs]