Avril Lavigne disfruta correr desnuda…
Avril Lavigne ha declarado que le encanta correr desnuda cuando está ebria. Al parecer la chica "Complicated" disfruta deshacerse de la ropa luego de unos tragos. Siempre me ha parecido que Avril disfruta tomar, incluso en una ocasión vi una entrevista en México con ella y parecía estar ebria. Anyway, aquí unas fotos de ella en su Rueda de prensa en Shangai. Avril Lavigne runs around naked when she is drunk. The "Complicated" singer enjoys stripping off after a few drinks. I think she loves drink, even once I saw an interview in Mexico with her, and (In my opinion) she was drunk. She was acting weird. Here some pic of Avril in her Tour press conference in Shangai.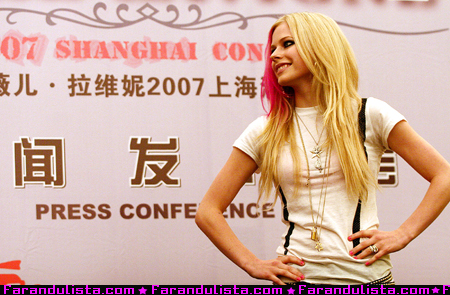 photos: CU
"I have a side to me that's a bit delinquent and I get myself in trouble. I like to drink and party and speak my mind. But when it comes down to it, I'm a good person and I wouldn't deliberately hurt anyone." Tengo un lado mio que es un poco delincuente y me mete en problemas. Me encanta beber y parrandear y hablar honestamente. Pero cuando esto termina, soy una buena persona y no dañaría a nadie a propósito.
[bgs]Avril Lavigne, fotos[/bgs]