Chicago deja una marca en Angelina Jolie
Angelina Jolie se ha hecho un nuevo tatuaje en Chicago. Se supo que un artista de Chicago Tattooing Co. en West Belmon pasó una buena parte de un dia tatuando no solo a Brangelina, Angie & Brad Pitt, si no también a parte de su equipo y personal de seguridad. Cuando se llamó a la tienda de Tattoos para confirmar la historia y saber qué se había tatuado Angie, el dueño de la tienda, solo dijo, que no podía decir nada. Observando las fotos se puede notar que la Jolie tiene unas nuevas coordenadas en su brazo izquierdo, donde estan las de Mad, Z y Shi. Es decir, que Angie se tatúo las coordenadas de Pax en Chicago. Angelina Jolie has a new tattoo. According to a source, an artist of the Chicago Tattooing Co. on West Belmont spentthe better part of a day tattooing not only Angie and Brad, but also some members of their staff and security team. When they called Chicago Tattoing owner to confirm all the storie, he said : ''I can't say anything.'' Watching the photos you can note that Angie has a new coordinates in her left arm, she's got Pax's coordinates.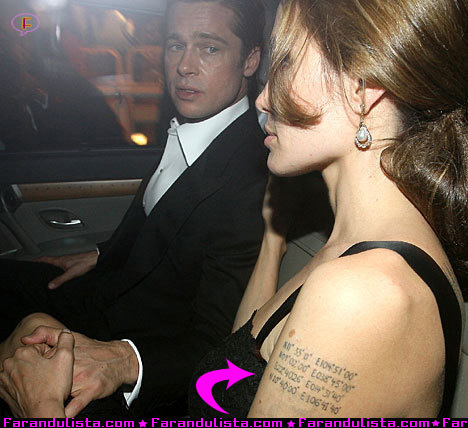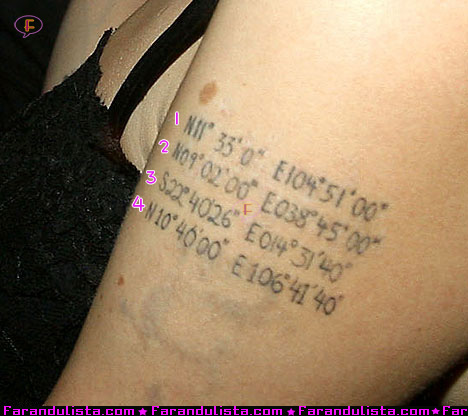 Durante la entrevista para la edición de Julio de Marie Claire, Angie solo mostraba tres coordenadas en su brazo izquierdo (de Maddox, Zahara y Shiloh) y expresó que debía tatuarse las de Pax. De acuerdo a la palabras de Angie, las coordenadas representan el lugar exacto en donde cada uno de ellos (Mad, Zi, Shi y ahora Pax) entraron en su vida. During the interview with Marie Claire July issue, Angie had only three coordinates in her left arm (Maddox, Zahara and Shiloh) and she said "I have to get Pax's coordinates". According to Jolie's words, her left arm shows the map ccordinates for the place where each of them (Mad, Zi, Shi and now Pax) entered in her life.
[bgs]Brangelina, Angelina Jolie, Brad Pitt, fotos[/bgs]