Britney Spears en los MTV VMA's 2007 – Ganadores
Los MTV VMA's de este año 2007 fueron menos espectaculares que en años anteriores, por no decir aburridos, esos saltos de fiesta en fiesta  en las suites de Palms Casino Resort lo que lograban era el odio de los fans, Foo Fighters, Kanye West, 50 Cents, Justin Timberlake, Fall Out Boys, entre otros, estaban repartidos en fiestas fuera del auditorio de los MTV. Y casi siempre sus presentaciones eran interrumpidas por comerciales (… lo odie!) Me encantó la presentación de Linkin Park (OMG!! Awesome!) y  Justin Timberblake con Nelly Furtado (ojo no soy su fan, pero estuvo muy cool!).  Alicia Keys se veía con unos cuantos kilos encima… sin embargo su hermosa voz opacó cuaquier detalle. Y por su puesto, qué esperaba el público? El performance de Britney Spears. Well, the MTV VMA's 2007 … no Big surprise! I felt boring as hell. I hated the jumps between suits and all the parties, the great perfomances, Linkin Park, Foo Fighters… were interrupted by commercials… WHY? I liked the Justin Timberlake & Nelly Furtado performance. Alicia Keys looks so fat! But she has a really great voice so… who cares? But I was expecting the Britney Spears Comeback! OMG! My eyes!!!!!
Anoche Britney Spears cantó en los MTV VMA's en Las Vegas. Sus fans pudieron ver su tan esperado regreso…sinceramente, fue vergonzoso. Britney se mostró como siempre, vestida con medias pantys de red negras, un atuendo compuesto de un TOP y un mini short y botas altas. Cuál era la sorpresa? Si siempre la vemos asi! Una muy fuera de forma Britney Spears cantó "Gimme More" (ahem!) y al parecer se le olvidó como actuar cuando haces "playback", bailó con un desgano increíble, parecía que no recordaba la coreografía. (VEAN EL VIDEO!) Todo el mundo en el público, estaba con la boca abierta (me too!), la misma expresión de sorpresa se repetía en los rostros de los asistentes. Incluso algunos se reían. Sentí verguenza por ella. Siceramente, si este era su gran regreso, que se quede en su casa y no salga más. Last night at Palms Casino Resort in Las Vegas, Britney Spears sang Gimme More.  It was her comeback? OMG!! It was awful, she was wearing a fug outfit, as usual. And she looked FAT! So obvious lip syncing It wasn't LIVE???  Britney Spears wasn't dancing, just wandering around stage. Everybody was laughing or looking at her with a "WHAT? face". Honestly, these pics make her look good, but the performance wasn't good. I felt sorry for her. Britney Spears isn't back baby, She's gone!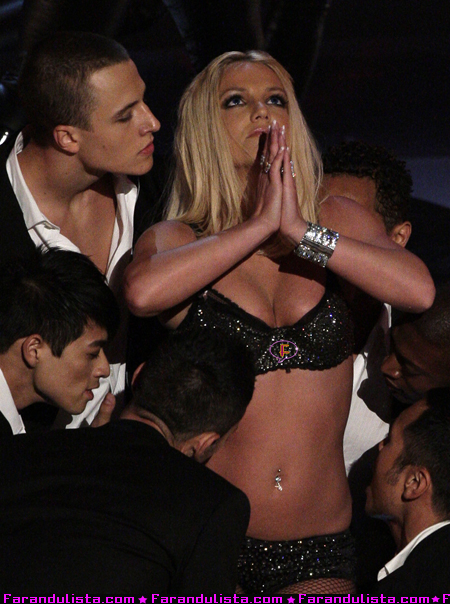 Britney Spears en los MTV VMA's 2007 
Fotos de Britney Spears performance en los MTV VMA's 2007
click para agrandar / click to enlarge
Video de Britney Spears en los MTV VMA's  2007 – performance
[youtube]http://www.youtube.com/watch?v=6tDDJniLriI[/youtube]
  Síp, Hay un montón de rumores ahora, que Britney estaba así porque ya sabía que Sarah Silverman se burlaría de sus niños (la tipa se pasó de la raya, meterse con sus niños fue muy bajo). Que si se le rompió el tacón de la bota, que le cancelaron su espectáculo de magia con Criss Angel a última hora. Sinceramente, no lo creo, y saben por qué? Porque en el video de Britney ensayando para este COMEBACK ella bailaba idéntico. Se le notaba que no estaba interesada, botó su oportunidad de brillar otra vez (si es que existío alguna vez esa posibilidad). 
Aquí esta el video de Britney en el ensayo de su Gran Regreso
[youtube]http://www.youtube.com/watch?v=MTU1Vylyf0I[/youtube]
Lista de Ganadores del MTV VMA's 2007 / MTV VMA's Winners! 
Video of the Year: Rihanna "Umbrella"
Male Artist of the Year: Justin Timberlake
Female Artist of the Year: Fergie
Best New Artist: Gym Class Heroes
Best Group: Fallout Boy, "This Ain't a Scene, It's an Arms Race"
Most Earthshattering Collaboration: Beyonce & Shakira "Beautiful Liar"
Quadruple Threat of the Year: Justin Timberlake
Monster Single of the Year: Rihanna "Umbrella"
Best Director: Samuel Bayer for Justin Timberlake's "What Goes Around … Comes Around"
Best Editing in a Video: Ken Mowe for Gnarls Barkley's "Smiley Faces"
Best Choreography in a Video: Marty Kudelka for Justin Timberlake's "Let Me Talk to You/My Love"