Keira Knightley en Vogue [UK]
Keira Knightley posó para la edición Británica de la Revista Vogue, fotografiada por Mario Testino, Keira demuestra ser uno de los rostros más hermosos de Hollywood. Con una exitosa campaña para Chanel "Coco Mademoiselle" y su reciente película "Atonement", Keira tiene su camino asegurado en el mundo del espectáculo. Dicen que por su actuación en "Atonement", Knightley podría ser nominada una vez más al Oscar de la Academia. Keira Knightley does British Vogue Magazine. Photographed by Mario Testino, Keira poses like a vintage Hollywood actress, she looks gorgeous. Keira is posing like a vintage Hollywood actress, I love her pictures. People say Keira should get an Oscar nomination for her performance in this movie.
I think "Atonement" was the first time that I'd felt more confident about being brought in to give something to be part, as opposed to looking pretty. Creo que en "Atonement" fue la primera vez que me sentí más segura de ser llevada a brindar algo y formar parte, a diferencia de (solo ser llevada a) lucir linda.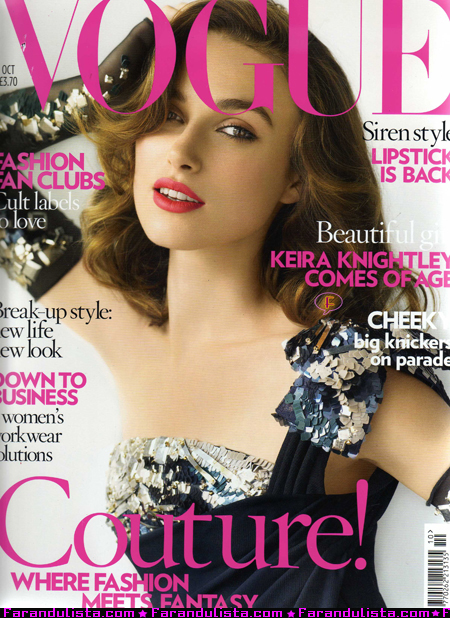 Keira Knightley posó para la Revista Vogue (UK)
Keira Knightley posa para Vogue Magazine (UK)
Click para agrandar / Click to enlarge
Sinceramente, deseo ver esta película "Atonement". Solo el trailer me emociona. La música, la trama, es conmovedora, casi lloro viendo el trailer (ok, lloré ¬¬). La trama es dramática, sin duda. En el verano de 1935, Briony Tallis observa el coqueteo entre su hermana mayor Cecilia (Keira Knightley) y el hijo de un criado, Robbie (James McAvoy), en su mentalidad de niña, Briony mal interpreta el hecho y cambia el curso de las vidas de todos, cuando ella acusa al novio de su hermana de un crimen que él no cometió. Un crimer tan horrendo cuyas consecuencias lo siguen a la Segunda Guerra Mundial. Honestly, I want to see this move, the trailer is so touching, I love the music… I almost cry. Atonement is a dramatic movie, the plot is really sad. In the summer of 1935, 13-year-old Briony Tallis observes a flirtation between a servant's son, Robbie, and her older sister, Cecilia, that she childishly misconstrues. Briony's misunderstanding changes the course of several lives when she accuses her older sister's lover of a crime he did not commit. A terrible crime whose consequences follow them through World War II.
Trailer de Atonement, la más reciente película de Keira Knightley
[youtube]http://www.youtube.com/watch?v=w9ZcvbwdpjM[/youtube]
[bgs]Keira Knightley, fotos, revistas[/bgs]