La vida de pareja de Brangelina ha cambiado
Angelina Jolie ha admitido finalmente que sí, que está demasiado delgada, y ha confesado que su vida sexual con Brad Pitt se ha visto afectada por la presión de criar cuatro niños. Angelina confirmó que su pérdida de peso empezó luego de la muerte de su madre Marcheline Bertrand en enero de este año. Le da todo el crédito a Brad por ayudarle a recuperarse y a sobrellevar sus momentos más difíciles. Y además, Jolie admite que mucha de la pasión sexual ha desaparecido debido a la demanda de ser padres y de sus carreras. Angelina Jolie has finally admitted she's too skinny and has confessed that her sex life with Brad Pitt is not the same by the pressures of raising four children. Ange confirms her shock weight loss began following the death of her mother in January . In the months that followed, she says Brad helped and guided her through the grieving process. Angelina Jolie also admits much of the sexual passion has fizzled out of the couple's relationship with the demands of parenthood and busy careers.
Of course I've lost weight. Some days are exhausting, only I'm not allowed to collapse," Ange told French magazine Gala. "I believe in pushing myself to the limits. Por supuesto que he perdido peso. Algunos dias son agotadores. No me permito derrumbarme, dijo Ange a la Revista francesa Gala. Me exijo a mi misma hasta el máximo.
Angelina Jolie ha admitido estar muy delgada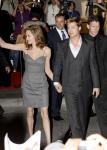 Obviously your intimacy is not the same," she says. "You are always engrossed and often you collapse with exhaustion in the evening. Obviamente tu intimidad no es la misma, siempre estás ocupado y casi siempre estás agotado en la tarde.
But I am a very lucky woman. Brad is very romantic in his ways. And we talk deeply about how we feel about everything… Pero soy muy afortunada. Brad es muy romántico a su manera. Y conversamos mucho sobre cómo nos sentimos
[bgs]Brangelina, Angelina Jolie, Brad Pitt, fotos[/bgs]