Gisele Bundchen y su nueva coleccion Ipanema
La super modelo Gisele Bundchen con un espectacular vestido de agua protagoniza la nueva campaña de su linea de sandalias Ipanema. La linea de la nueva colección es bonita y lo más importante, cómoda, yo tengo un par de sandalias (tipo un dedo) rosadas. Comodísimas, el material es bastante suave, adoro esas sandalias. Me gustan mucho los diseños porque son modernos pero con la comodidad que pocas veces se consigue en zapatos que puedas llevar en el dia. Las sandalias son tan modernas y sus diseños tan agradables que puedes usarlas para ir a la playa o con tu ropa de diario. Sobre todo aquí en el Caribe. La nueva campaña tiene fines ecológicos, preservar el agua del rio Xingu de Brasil y por supuesto la del mundo. En su página web (en portugués) además de ver los modelos y colores de las sandalias, puedes leer los consejos para preservar y no malgastar el vital líquido, ver videos y descargar salvapantallas de Gisele. Gisele Bundchen a través de su linea de sandalias Ipanema, apoya diferentes causas para preservar y mantener el agua en el mundo. Super Model Gisele Bundchen is wearing a water dress in the new campaign for her Line of sandals Ipanema. The new collection is really beautiful, and comfortable. I have a pair of pink sandals, and they are son soft and comfortable, I love them! The Ipanema designs are trendy, modern and really pretty, you can wear the sandals with you beach style or simply wear them with your daily clothes, well, here at the Caribbean. Ipanema is supporting the Brazil's Xingu River and the world water preservation through different campaigns around the world. The slogan of the Ipanema Campaing: Because the Earth is blue!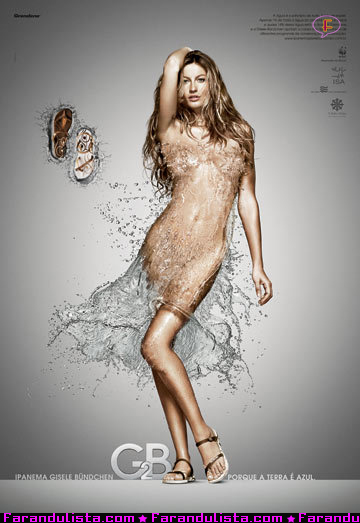 Ipanema by Gisele Bundchen – Porque la tierra es azul
Nuevas promos de Gisele Bundchen para Ipanema
Fotos de algunos modelos Ipanema
Salvemos las aguas del Xingu, de Brasil y del Mundo. Save the water of Xingu, Brazil and world.
Hay poca agua para tanta gente, y no estamos cuidando bien de ella. There is not enough water for the whole world and we're not taking care of it
Fotos del tras cámaras de esta nueva campaña Ipanema
[bgs] Gisele Bundchen, fotos[/bgs]