Us Magazine tambien confirma embarazo de Jennifer Lopez
Ahora como ya se ha confirmado la noticia de que Jennifer Lopez está embarazada, luego de tantos rumores afirmando y negando, la revista US tiene a la Jlo en su portada y en su titular afirma su dulce espera. Aún cuando Jennifer Lopez evitó todas las preguntas sobre su estado, su "barriguita" la delata. Según la revista US hay varias fuentes que confirman que tiene unos cuatro meses de embarazo de su primer hijo, o hijos, aún no se sabe ciertamente, pero US afirma que Guadalupe la madre de Jlo, está orgullosa contándole a todo el mundo que Jennifer tendrá gemelos. De acuerdo al titular de US Jennifer Lopez desea una niña. Well, now everybody is claming Jennifer Lopez pregnancy. Us Magazine is claiming Yes, She's (Jennifer Lopez) is pregnant! OMG! Really? According to Us Magazine some sources tells that Jlo is four months pregnant of her first child or children, because, you know, they say, Guadalupe Jennifer's mom "is proudly telling people she's having twins." They also say that Jlo wants a baby girl. Awww…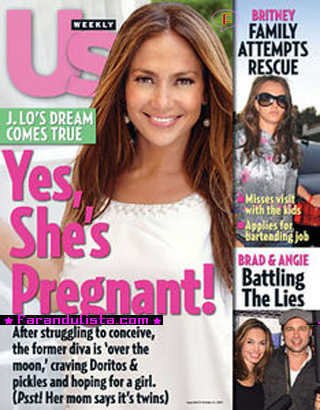 Es un sueño hecho realidad, una fuente cercana a López le contó a US. Ella y Marc están muy felices. "It's a dream come true," a Lopez source tells Us. "She and Marc are over the moon."
Este embarazo es un milagro, expresó otra fuente. "This pregnancy is a miracle."
La revista US sale a la venta esta semana. Para más detalles sobre el embarazo de Jennifer Lopez, estén pendientes!
[tags]Jennifer+Lopez, Us+Magazine, revista+Us[/tags]
[bgs]Jennifer Lopez, revistas[/bgs]