Jonathan Rhys Meyers en la revista Details [Dic]
Jonathan Rhys Meyers (The Tudors) aparece en la revista Details, Edición de Diciembre. En la entrevista con Details, Rhys Meyers habla de Brad Pitt, Leonardo DiCaprio, sobre ser narcisista y su temporada fuera del medio. Afirmando que Hollywood se basa en el aspecto físico de la gente. Sobre Brad Pitt, la estrella de The Tudors dijo que [Pitt] es un excelente actor, pero que no sería tan famoso si no se viera como luce. De Leonardo DiCaprio, expresó que se hizo famoso muy joven, era un chico que le encantaba ir de fiestas, se tomó dos años y regresó siendo uno de los mejores actores de Hollywood.
Parte de ser un narcisista es ser terriblemente inseguro.. Si no fuese tan inseguro sobre mi mismo, no podría trabajar tan duro como lo hago. Estoy constantemente buscando aprobación. "Part of being a narcissist is being terribly insecure. If I wasn't so insecure about myself, I wouldn't work as hard as I do. I am constantly seeking approval."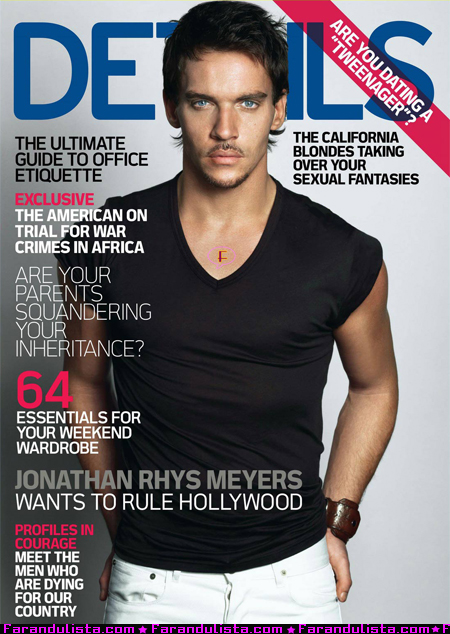 En estos dias estuve viendo The Tudors, (Helloooo, Jonathan!) Se ve realmente HOT!! Pero en algunas fotos se ve muy mal, parece un psicópata, me da miedo. No sé, tal vez son las fotos que he visto de él últimamente. Enjoy!
[tags]Jonathan+Rhys+Meyers, revista+Details, fotos[/tags]
[bgs]Jonathan Rhys Meyers, The Tudors, revistas, fotos[/bgs]