Rihanna confirma romance con Josh Hartnett
Rihanna ha confirmado el rumor de que está saliendo con Josh Hartnett. La cantante de "Umbrella" (ella ella, ok es broma) insiste en que el chico es realmente dulce, y que mentiría si dijera que son solo amigos. Los rumores surgieron tras la publicación de una foto de la pareja en el Club Pink Elephant de New York. Ahora Rihanna ha confirmado la relación. Rihanna has confirmed she is dating Josh Hartnett, insisting he is "really sweet". An she would be lying if she said they are just friends. All rumors came up after a photo emerged of the couple at New York club Pink Elephant. And now the Umbrella singer has confirmed the relationship.
"I've fallen for him big time. I would be lying if I (said) we were not more than just friends. He is so hot and he is really sweet to me. When we hang out it feels right – even though it's still pretty new."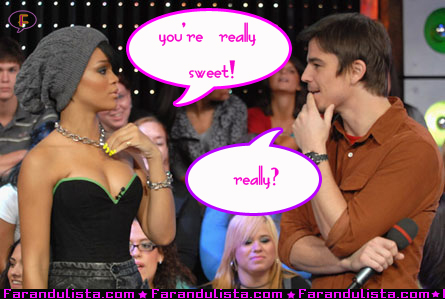 Rihanna y Josh Hartnett son pareja
[tags]Rihanna, Josh+Hartnett, pareja[/tags]
[bgs]Rihanna, Josh Hartnett[/bgs]