Britney Spears tiene problemas mentales no de drogas
Britney Spears no tiene problemas de abuso de drogas, simplemente esta loca. Según US Weekly magazine, fuentes cercanas a Brit Brit dicen que ella parece no darse cuenta de la gravedad del caso de la custodia de sus hijos, y ellos afirman que el comportamiento extraño (compartir ropa con extraños y sus recientes espectáculos) de Spears se debe a problemas mentales, no de drogas, y están empeorando. Un amigo sospecha que Britney sufre de un problema de déficit de atención (adult-onset ADD) o depresión, un amigo dijo luego de que Britney tuvo a sus pequeños Sean Preston (2) y Jayden james (1) que el Post parto siempre ha sido un problema. Britney doesn't have drug issues, she's just nuts! According to Us Weekly friends of Britney Spears blame her bizarre public behavior on psychological issues, not drugs. They suspect adult-onset ADD or depression, " with one friend saying, "Postpartum has always been a problem" after giving birth to Sean Preston, 2, and Jayden James, 1."
It's not substance abuse – it's mental! a confidante tells Us.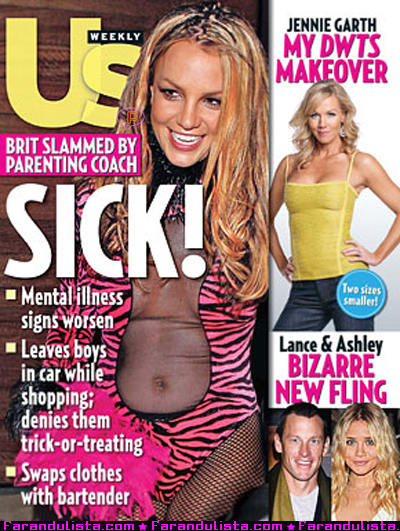 [tags]Britney+Spears, Us+Weekly[/tags]
[bgs]Britney Spears, revistas[/bgs]