Mary Kate Olsen en la Revista Nylon
Mary Kate Olsen ha posado con su inigualable estilo para la Revista Nylon en su edición de Enero 2008. La renegada de la moda "Fashion Regenade" habla sobre su estilo. Mary Kate demuestra tener mucha personalidad ella viste como quiere, según ella cosas raras, sin tomar en cuenta las críticas. Se viste para ella, para sentirse bien. Mary Kate Olsen es de las personas que creen que la vida no es más que un sueño.
Visto cosas raras a veces. Me encanta tomar café. Ninguna de esas cosas tienen nada que ver con lo que soy. I wear weird things sometimes. I like to drink coffee. Neither of those things have anything to do with who I am.
Ahora que soy mayor estoy más pendiente de las cosas que me hacen sentir completa como persona. Estoy tratando de concentrarme en esas cosas y evitando otras que me hacen sentir vacía. Now that I'm older I'm more aware the things that make me feel complete as a person. I'm trying to concentrate on those things as opposed to things that make feel empty.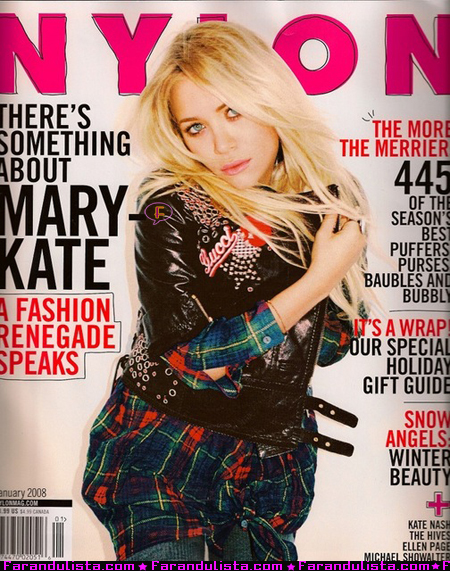 Otra Noticia, Mary Kate Olsen fue ingresada de emergencia (el lunes) al hospital de New York por una infección en el riñon, informó su representante a People. Sin embargo, su representante asegura que su estado es estable y que ella se encuentra bien y descansando.
[tags]Mary+Kate+Olsen, Nylon+Enero+2008[/tags]
[bgs]Mary Kate Olsen, revistas[/bgs]