Christina Applegate posa para Peta
Christina Applegate (la protagonista de Samantha Who?) posó reveladoramente para una tarjeta navideña de Peta. En la tarjeta Applegate incita a la gente a no comprar pieles en las navidades. Christina Applegate es una conocida amante de los animales, se volvió vegetariana durante un almuerzo en su set de trabajo de "Married With Children", cuando era adolescente. Christina Applegate is encouraging holiday shoppers not to buy fur for the holidays in a revealing PETA e-card. Christina Applegate says she turned vegetarian during lunch one day on the set of her former sitcom, Married with Children, when she was a teenager.
Me di cuenta que no puedo comer nada que haya estado vivo, dice. Así que dejé de hacerlo, y eso fue. Esa fue la última vez. [I realized] I can't eat something that has been alive," she said. "So I stopped, and that was it. That was the last time.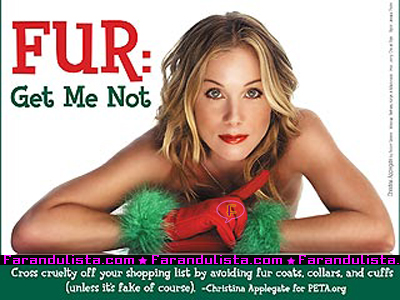 Evite la crueldad y elimine los abrigos de pieles de sus listas de compras (a menos que sean sintéticas, claro) Cross cruelty off your shopping list by avoiding fur coats, collars, and cuffs (unless it's fake fur of course.)
[tags]Christina+Applegate, peta-ecard[/tags]
[bgs]Christina Applegate[/bgs]