Ashlee Simpson en Cosmo Girl (Dic – Ene)
Ashlee Simpson estará en la revista Cosmo Girl, en su edición de Diciembre – Enero 2008. Ashlee en la entrevista con Cosmo Girl comenta que antes le afectaba mucho lo que la gente decía de ella, pero que trabajar en Chicago le enseñó a creer en sí misma, aprendió a sentirse más cómoda consigo misma. Ashlee le da crédito a su novio Peter Wentz por ayudarle y darle fortaleza, en su vida privada y haberle dado un empujón a su vida profesional, en particular a su tercer album que saldrá el próximo año. Ella afirma que son (además de pareja) muy buenos amigos y se complementan el uno a otro.
Hubo un tiempo en lo que la gente decía de mi podía realmente afectarme. Pero trabajar en Chicago me ayudó a creer en mi misma, [La actuación en teatro] ha sido siempre mi sueño desde que era pequeña, ser capaz de lograrlo … fue increíble. Me enseñó a estar más cómoda conmigo misma. "There was a time when what people said about me could really get to me. But working on Chicago helped me come into my own,[Theater acting] had been a dream of mine ever since I was little, and being able to fulfill it … was amazing. It taught me to be more comfortable with myself."
He llegado a un punto donde creer en mi misma es más importante que lo que los demás puedan decir. La gente inventa historias sobre ti, pero realmente no te conocen… Ya no me desconciertan esas cosas. "I've gotten to the point where being credible with myself is more important to me than what anyone else says. "People make up stories about you, but they don't really know you. … I'm not fazed by that anymore."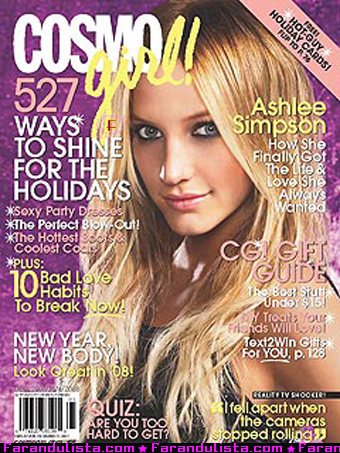 Ashlee Simpson en la portada de Cosmo Girl
[tags]Ashlee+Simpson, Cosmo+girl+december+january, Cosmo+Girl+cover[/tags]
[bgs]Ashlee Simpson, revistas[/bgs]