Keira Knightley topless en Interview Magazine
Keira Knightley ha posado topless para la portada de la revista Interview, en su edición de Diciembre. Vestida con guantes negros, un pantalón blanco y unos tirantes negros, Keira se ve en esta portada más madura. Durante la entrevista con Interview Keira comenta sobre su más reciente film "Atonement" (pueden ver el trailer aquí). La sesión de fotos está preciosa, lástima la portada, no es su mejor toma, cuando le preguntan sobre la sesión dice que siempre terminan quitándole la ropa. Keira Knightley does Interview magazine, December issue. Keira poses topless on the cover magazine, wearing only black gloves, white pants and suspenders. She looks older, I don´t like the cover shoot, it's nor her best one. The photoshoot is beautiful. During the interview Keira talks on her most recent film Atonement and she said that for the photoshoot "We always ended by taking my clothes off again"
Absolutamente! [las películas como medio de escape] Siempre he amado ser transportada a otra época y lugar, y adoro ser llevada lejos en una fantasia. Absolutely! I always loved being transported to another time and place, and I love to becarried away in a fantasy.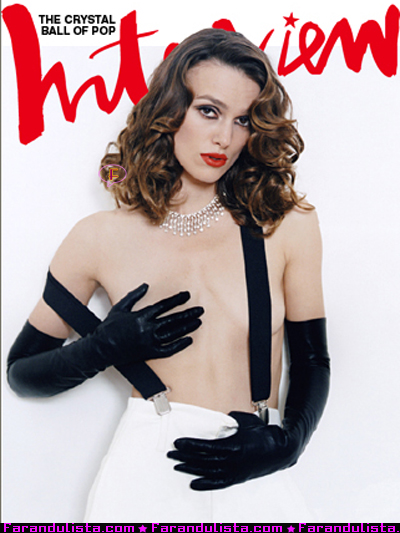 [tags] Keira+Knightley, Interview+magazine+diciembre, Keira+Knightley+topless[/tags]
[bgs]Keira Knightley[/bgs]