Uma Thurman en Harpers Bazaar
Uma Thurman posó para la edición de Enero 2008 de la revista Harper's Bazaar, durante la entrevista Uma habla sobre su nuevo amor, llegar a los 40, dejar de fumar y su vida como actriz. Uma es una de las actrices más espectaculares de Hollywood, me encanta la portada. Uma Thurman does Harper's Bazaar magazine (January 2008 issue), during the interview Uma opens up on her new love, turning 40, stop smoking and life as an actress. Uma looks beautiful, I love the cover shot.
Sabes, creo que las actrices son imaginadas siendo objetos de gran vanidad. La vida cambia; hay cambios físicos. Es transitorio, y es algo hermoso y doloroso. Cuando miro en el espejo, pienso, Qué he hecho realmente? No mucho, si realmente quieres saber. Qué necesito para hacer más? You know, I think actresses are imagined to be these subjects of great vanity. Life is change; physicality changes. It's transient, and that's a beautiful and a painful thing. When I look into the mirror, I think, What have I really done? Not much, if you really want to know. What do I need to do to do more?
Quieres decir que ando de hombros caídos y como mucho? Esto pasa cuando dejas de fumar. You mean I slouch and I eat a lot? This is what happens when you quit smoking.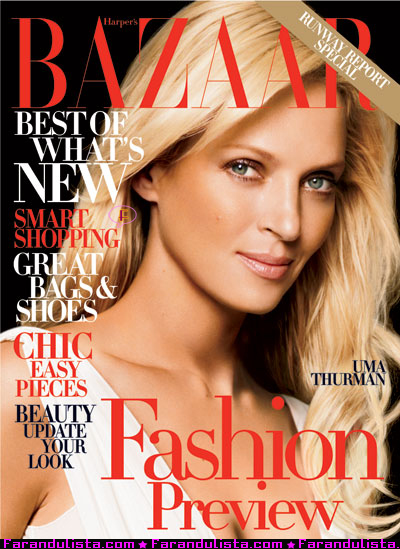 [tags]Uma+Thurman, Harpers+Bazaar+magazine+Enero+2008[/tags]
[bgs]Uma Thurman[/bgs]