Britney Spears culpa a su madre del embarazo de Jamie Lynn
Britney Spears culpa a su madre Lynne del embarazo de su hermana de 16 años Jamie Lynn. Britney ha llamado a su madre, luego que se enteró por los medios, que su hermana estaba embarazada y la culpó de arruinar las vidas de ella y Jamie Lynn. Britney no se habla con su madre Lynne desde Febrero cuando le obligaron a entrar en rehabilitación, además le ha prohibido a sus padres que visiten a sus nietos, Seann Preston y Jayden James (solo pueden verlos cuando están bajo la custodia de Federline, quien si lo permite) Tal vez Brit se arrepienta de esta decisión una vez su sobrino o sobrina nazca. Britney Spears blames her mom for Jamie Lynn's pregnancy. Britney called up her mom and blamed her for her and Jamie Lynn messe up life. They have been estranged since February, when the family forced Brit Brit into Promises rehab facility against her will. Britney Spears has even forbidden her parents from seeing their grandsons, Sean Preston, 2, and Jayden James, 1 (though Kevin Federline lets them visit when the children are in his custody). It's a decision that Britney may come to regret once her niece or nephew is born.
Britney básicamente estuvo sobre ella todo el tiempo (que duró la llamada), culpándola de haber arruinado las vidas de ella y de Jamie Lynn. Fue una llamada muy hiriente. Britney basically went off on her the entire time, blaming her for her and Jamie Lynn's messed up life, says the insider. It was a very hurtful call.
Britney siente que ellos la abandonaron cuando más los necesitaba. Ella sintió y se siente, completamente excluída de su familia. Britney feels like they have all abandoned her in her time of need, says the source. She felt, and still feels, completely left out of the family.
Como a Lynne se le ha negado visitar a los niños cuando Britney los tiene, Lynne se ha asegurado de tener más control sobre el bebé de Jamie Lynn. Because Lynne has been refused visits with Britney when she has the boys, Lynne will make sure she has more control over Jamie Lynn's baby.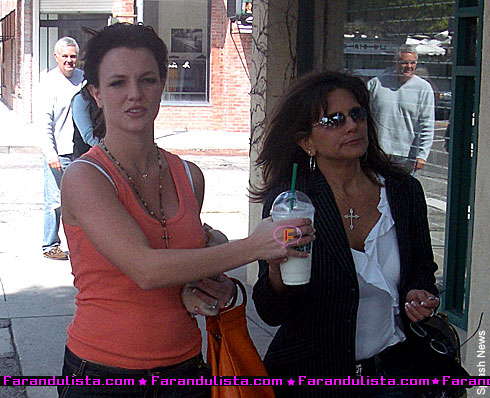 Britney Spears y su madre Lynne cuando aún se hablaban
Britney comprando algunos regalos de navidad
Si bien es cierto que la madre tiene reponsabilidad en lo sucedido a Jamie Lynn, Britney no puede olvidar que como hermana mayor ella también es ejemplo para su hermana. Britney debería olvidar todos esos problemas con su familia (que ella se ha inventado), su familia jamás la abandonó, su familia siempre estuvo a su lado, que no le decían que estaba bien cuando andaba mostrando todo como una loca, es otra cosa. Tu familia no te odia cuando dice que necesitas ayuda. Si Brit Brit quiere formar parte de la vida familiar de Jamie Lynn, debe recapacitar.
[tags]Britney+Spears, Jamie+Lynn+Spears, Lynne+Spears, Britney+culpa+a+madre+de+sus+desastrosas+vidas[/tags]
[bgs]Britney Spears, Jamie Lynn Spears[/bgs]