Lindsay Lohan se relaja en Italia, come, bebe y compra
Lindsay Lohan celebró el fin de año en Italia, en Capri fue homenajeada, y ha estado paseándose por Roma. Pero Lindsay Lohan ha recaído durante la celebración del año nuevo, la Mean Girl – quien supuestamente está rehabilitada por alcohol – fue grabada bebiendo de una botella de champagne. Bueno, solo se le vió tomando un trago (a big one, by the way), tampoco era que estaba ebria. Italia ha sido total reláx para Lindsay quien ha comprado, coqueteado (con tres hombres en un solo dia), comido (mmm… italian food) y bebido. El abogado de Lindsay dijo que solo fue un trago de brindis por el año nuevo, no significa que Lilo ha vuelto a sus dias salvajes. Anyway, La Bella vita de Lindsay…  Anyway Lindsay Lohan out of wagon in Capri. Lindsay Lohan was taped drinking from a champagne bottle during the new Year celebration in Capri. She wasn't drunk but she was drinking alcohol… the good thing here, Lindsay called her sponsor and  got herself back on track. Lindsay has been spending good time in Italy, shopping, eating, flirting… Her lawyer said in a statement, that it was only a gulp for the new year. It doesn't mean that Lindsay is back in her wild party days. Well. La Bella vita, right Lindsay?
Después de haber tomado de una botella de champagna, durante la celebración del año nuevo en la pista de baile en Italia, la buena noticia es que Lindsay se detuvo, llamó a su consejero y se mantuvo al margen, dijo en una declaración Blair Berk, abogado de Lilo. No hay una cura mágica aquí. Lo mas desafortunada parte de esto que Lindsay tiene que compratir su "un dia a la vez" con el mundo entero. After being handed a champagne bottle while on a dance floor in Italy on New Year's Eve and drinking from it, the good news is that Lindsay stopped herself, called her sponsor, and got herself back on track," Blair Berk said in a statement. "There is no magic cure here. The most unfortunate part of this is that Lindsay has to share her 'one day at a time' with the entire world.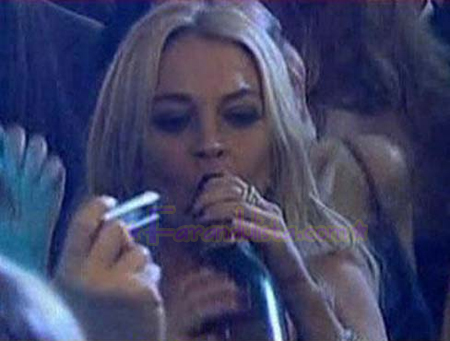 Lindsay Lohan probó alcohol durante la celebración del año nuevo 2008 (Capri)
Lindsay Lohan de shopping en Roma