El comportamiento de Britney no era por abuso de sustancias
Britney Spears salio negativo en los exámenes anti drogas a los que fue sometida, para saber bajo la influencia de qué sustancias se encontraba cuando la policía llegó a su casa, luego que recibieran una llamada a causa de una disputa por una custodia. Britney no quería regresar a Sean Preston y a Jayden James con su padre Kevin Federline. Los exámenes de sangre realizados a Brit Brit en el Centro Médico Cedars Sinai de Los Angeles, indican que no había rastros de drogas o alcohol en su organismo, pese a que la policia reportó que Spears parecía estar bajo la influencia de una sustancia desconocida. Esto quiere decir que el extraño comportamiento de Britney Spears no se debe a abuso de sustancias. So, Brit Brit no estaba bajo la influencia de ninguna sustancia cuando secuestró a sus niños el jueves en la tarde por unas tres horas. La conducta de Brit se debe quizá a problemas mentales, como ya se había comentado anteriormente. Britney reía histéricamente cuando los paramédicos la llevaron en camilla hasta la ambulancia, luego comenzó a llorar. Britney Spears blood tests at Cedars-Sinai Medical Center came back negative, despite earlier reports from police that she appeared to be under the influence of a substance when she was taken from her home after a custody dispute on Thursday night. This indicates that her odd behavior was not the result of substance abuse, as early reports suggested.
Sus prueba de sangre ya la tenemos, y gracias a Dios, está limpia. No hay rastros de alcohol o drogas de ningún tipo. Her blood test just came back, and, thank God, it was clean. There are no traces of drugs or alcohol of any kind,"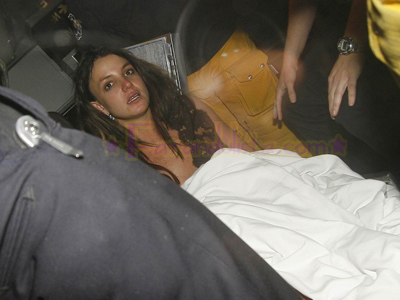 Britney pasaba de la euforia al llanto mientras era trasladada
al hospital el jueves en la noche.
El pequeño Jayden James también fue trasladado al hospital para una revisión, Britney decía que el pequeño tenía un hematoma y que ella no lo había hecho. Jayden fue dado de alta momentos después y entregado bajo la custodia de Federline. Jayden James was taken to Cedars-Sinai Medical Center via ambulance because Britney said that he had a bruise on him, a family insider tells PageSix.com, adding, "And she said she did not do it."
Britney Spears perdió el derecho a visitar a sus hijos luego de que la internaran para una evalución psiquiátrica. Kevin Federline tiene ahora la custodia física completa de Jayden James y Sean Preston hasta el 14 de Febrero. Hasta ahora, Spears no está acusada de ningún cargo criminal. Britney Spears lost her child-visitation rights Friday following her 72-hour lockdown for a mental evaluation. Kevin Federline is "awarded sole legal custody and sole physical custody of the minor children," court Commissioner Scott Gordon said in a written ruling after an emergency hearing. Gordon said Spears's "visitation with the minor children is suspended pending further order of the court."
The order is in effect until Jan. 14.
[tags] Britney+Spears+negativo+prueba+antidrogas, Britney+Spears+mentalmente+inestable, Britney+no+estaba+drogada+cuando+secuestro+a+sus+hijos, Britney+Spears+pierde+derecho+visitas+hijos[/tags]
[bgs]Britney Spears[/bgs]