Jessica Alba en Elle magazine [Febrero]
Jessica Alba posó con un sexy vestido estilo strapless de Gucci para la portada de la revista Elle en su edición de Febrero. Jessica – quien espera un hijo de su prometido Cash Warren – habla sobre ser sexy en Hollywood para estar en boga. Comentó su impresión cuando conoció a Zac Efron, mostró su tatuaje en el cuello y hablo sobre cumplir 27 años. La sesión de fotos estuvo a cargo del famoso fotógrafo Gilles Bensimon. Jessica Alba does Elle magazin, February issue. Jessica is wearing a sexy Gucci strapless minidress in the cover shot, the photoshoot is by famous photographer Gille Bensimon. Jessica talks in the interview on race in Hollywood using sex to get ahead and why actors make bad boyfriends. She also talks about her impression on Zac Efron, her next bithday and she showed to Elle her neck tattoo.
Él [Zac Efron] luce como un niño con mucho maquillaje. Yo estaba como, Por Dios, eres solo un niñito. He looks like a child with a lot of makeup. I was like, 'My God, you're just a little kid.'
Estoy esperándolo. Estoy sintiéndome vieja, sí 27 fue cuando Janis Joplin, Jimi Hendrix, Kurt Cobain y Jim Morrison murieron. I'm anticipating it. I'm feeling old, yes 27 was when Janis Joplin, Jimi Hendrix, Kurt Cobain, and Jim Morrison all died.
Creo que hay chicas ambiciosas que harían cualquier cosa por ser famosas, y creen que los hombres en la Industria estan acostumbrados a mujeres que hacen eso. Contrario a lo que la gente puede creer, nunca he usado mi sexualidad. Para mi no es parte de esto. Cuando estoy en una reunión, dejo claro por qué soy un activo, como soy una mercancia, como puedo poner asnos en la sillas, no, "Hay una oportunidad de que seas capaz de jod*rm*." Eso nunca ha sido mi negocio. I think there are ambitious girls who will do anything to be famous, and they think men in this business are used to women doing that. Contrary to how people may feel, I've never used my sexuality. That's not part of it for me. When I'm in a meeting, I want to tell you why I'm an asset, how I'm a commodity, how I can put asses in the seats, not, 'There's a chance you're going to be able to f*ck me.' That's never been my deal.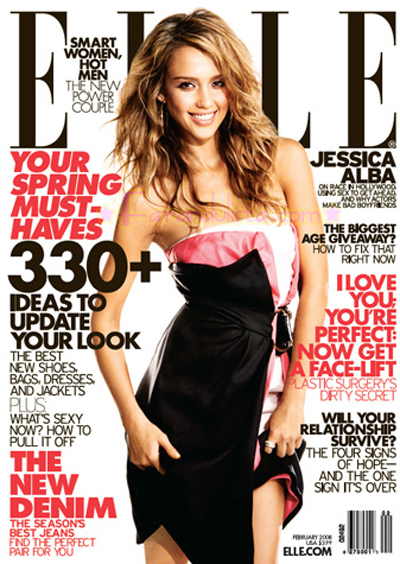 Jessica Alba en la revista Elle- Febrero
Ha! lo de Zac Efron… casi me muero de la risa…
[tags]Jessica+Alba, Elle+Magazine+Febrero[/tags]
[bgs]Jessica Alba[/bgs]