Nicole Richie ya es madre de una niña
Nicole Richie y Joel Madden ya son padres de una hermosa niña. Nicole y Joel llamaron a su hija Harlow Winter Kate Madden, la niña nació el viernes en el Cedars Sinai Medical Center de Los Angeles y pesó apróximadamente 2 kilos 200 gramos. Se esperaba que Nicole diera a luz la próxima semana en cualquier momento, pero el nacimiento fue antes. La madre y la hermosa bebita ya están es su casa, ambas muy bien. Awwww… Nicole Richie and Joel Madden have a girl!! Harlow Winter Kate Madden was born Friday at Cedars-Sinai Medical Center and weighed 6 lbs. 7 oz. We all expected Nicole will be on labor maybe next week but, the baby was born yesterday. Congratulations for Nicole and Joel!
La hermosa y saludable bebita dejó el hospital con sus extasiados padres. "The beautiful healthy baby girl left the hospital with her ecstatic parents,"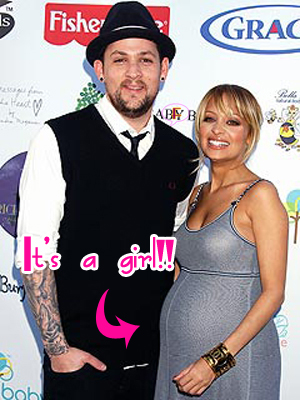 Nicole Richie tuvo una niña
[tags]Nicole+Richie+tuvo+una+niña, Nicole+Richie+Joel+Madden+padres+deùna+niña, Harlow+Winter+Kate+Madden+hija+NIcole+Richie+Joel+Madden[/tags]
[bgs]Nicole RIchie, Joel Madden[/bgs]