Heath Ledger fue encontrado muerto
OMG! Heath Ledger fue encontrado muerto por su ama de llaves en su residencia de Manhathan. Tenía 28 años. OMG! I cant believe it! Aún no está clara la razón de su muerte, según MSNBC, Heath estaba rodeado de pastillas. Heath Ledger tiene una hija con su anterior pareja, Michelle Williams de quien se separó el año pasado en Septiembre. Ledger es El Guason (The Joker) en la próxima película de Batman, "The Dark Knight." Y fue nominado para el Oscar de la Academia por su papel en el polémico film "Brokeback Mountain". Heath Ledger has been found dead by his housekeeper at a downtown Manhattan residence. He was 28. It is unclear at this point how he died. MSNBC is reporting that he was found surrounded by pills. Ledger has a two year old daughter with former fiancee Michelle Williams — they separated las year on September. He plays The Joker in the upcoming Batman film, "The Dark Knight." He was nominated for an Academy Award for "Brokeback Mountain"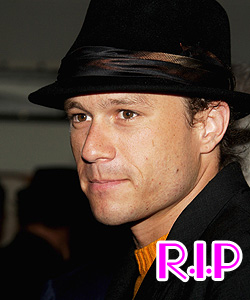 TMZ está reportando que Heath Ledger tenía problemas con abuso de sustancias, hace un año que estaba limpio. El cuerpo fue encontrado boca abajo, sin ninguna señal de trauma. Aparentemente la muerte fue accidental.
OMG! Esto es tan triste… no lo puedo creer…
[tags]Heath+Ledger+muerto, Heath+Ledger+encontrado+muerto, Heath+Ledger+nuevo+Joker+Muerto[/tags]
[bgs]Heath Ledger[/bgs]