Lindsay Lohan habla sobre sus malos habitos en Harpers Bazaar
Lindsay Lohan habla sobre sus malos hábitos pasados y actuales, en la edición de Marzo de la Revista Harper's Bazaar. En una cálida entrevista con Harper's, Lilo incluso habla sobre algunos hábitos que le atribuyen y confiesa que jamás ha estado ebria durante el dia en su vida, Lohan se sincera y conversa sobre su vida familiar y lo que aprendió durante al año pasado. Lindsay Lohan habla sobre la importancia de la familia y comenta que no ver a su padre fue duro para ella al igual que no estar lo suficiente con su familia. La revista Harper's Bazaar estará a la venta en Febrero 19 (USA). Lindsay Lohan gives a candid interview in the March issue of Harper's Bazaar where she talks about everything from her old bad habits and the new ones. Lohan even discusses the habits she claims are fictional: "I never was [drunk during the day] in my life, actually." The Mean Girl opens up about her family life, she talks about the importance of the family, and says that not seeing her father and not being with my family enough was really hard for her.
Cuando recuerdo el año pasado, es como, En qué estaba pensando? "When I look back on this last year, it's like, what was I thinking"
Siempre siento como que necesito un cigarrillo con el café. Pero estoy intentando fumar menos. "I always feel like I need a cigarette with coffee. But I'm trying to smoke less."
He aprendido tanto, pienso, como aprendi a amar mi vida de diferente manera… y que no estaba tomándome el tiempo para sentir mis sentimientos. Estar lejos e ir a un lugar donde pude aprender esto y tomarme un tiempo con la mente limpia para regresar al camino correcto fue bueno. "I've learned so much, though, like learning to love my life a different way… and I wasn't taking the time to feel my feelings. Being away and going to a place where I could learn about that and take the time with a clear mind to get back on the right track was nice."
Cuando estuve en casa la última vez, estuve allí. Me sentí muy bien. Fue agradable estar en casa. Soy una chica familiar. Amo a mi familia. Los amo con todas mis fuerzas. Ellos son grandiosos, y eso es algo que no puedes dar por sentado. "When I was home last time, I was there. It felt really good. It was nice to be home. I'm a family girl. I love my family. I love them to death. They're amazing, and that's something you can't take for granted."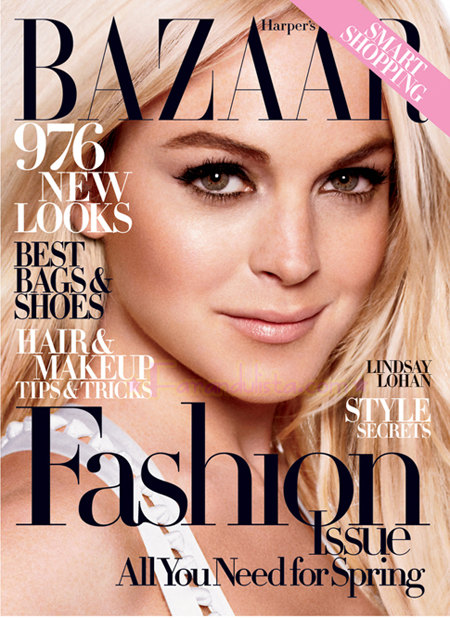 Lindsay Lohan en Harper's Bazaar Marzo
[tags]Lindsay+Lohan, Harpers+Bazaar+Marzo[/tags]
[bgs]Lindsay Lohan[/bgs]