Eva y Lindsay Las Peor Vestidas del 2008, segun PETA
PETA ha publicado su lista de las Celebridades Peor Vestidas del 2008, y Eva Longoria y Lindsay Lohan están en ella! En esta lista figuran las celebridades que han osado llevar pieles, o de alguna manera han promocionado la crueldad contra los animales. En la lista de las Celebridades Peor Vestidas del 2008, según PETA la REINA fue Aretha Franklin por llevar un E-N-O-R-M-E abrigo de piel a la entrega de los Grammy. También están Eva Longoria, Lindsay Lohan (por usar pieles), Kylie Minogue (por usar un bolso de piel de Pyton), Kate Moss y Marilyn Manson. Dónde está Paris Hilton? PETA's list of 2008's Worst-Dressed Celebs includes: Aretha Franklin, Lindsay Lohan, Eva Longoria, Kate Moss, Kylie Minogue and Marilyn Manson.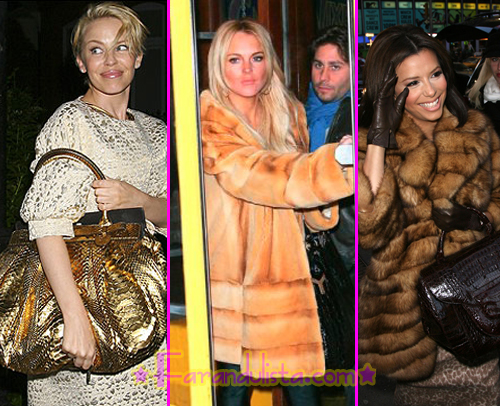 Kylie, Lindsay y Eva en la lista de las Peor Vestidas 2008 según PETA

Kylie Minogue por llevar un bolso Zagliani de piel de python
PETA además hizo unos discursos enfáticos sobre las criminales, aquí algunos extractos…
Aretha Franklin: Qué tal un poco de R-E-S-P-E-T-O por los animales? Aretha cuando estuviste en los Grammy caminando dando pasitos parecía que ibas a interpretar "Soy la Morsa!" Aretha Franklin: How 'bout some R-E-S-P-E-C-T for animals? Aretha, when you waddled into the Grammys, you looked as if you were going to perform "I Am the Walrus."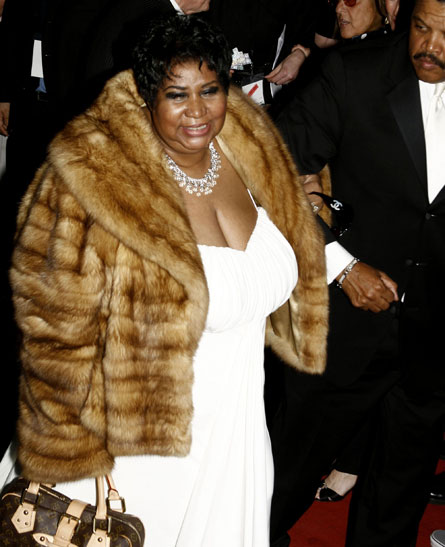 Aretha Franklin en la entrega de los Grammy 2008
Eva Longoria: En sus pieles de baja calidad, Eva luce como una prostituta de Wisteria Lane. Eva es una esposa desesperada que necesita un divorcio rápido – de su estilista. Eva Longoria: In her trashy furs, Eva Longoria looks like the streetwalker of Wisteria Lane. Eva is one "desperate housewife" in need of a quickie divorce – from her stylist. FUR REAL: PETA is hating on Eva Longoria.

Lindsay Lohan: I Know Who Killed Me no es solo el nombre de la última bomba de Lindsay Lohan, es el llanto de los animales muertos para que ella puede posar en sus pieles. No hay ningún camino a la recuperación para los zorros que son electrocutados analmente para que tú puedas lucir como una cualquiera… Lindsay Lohan I Know Who Killed Me isn't just the title of Lindsay Lohan's latest bomb, it's the cry of the animals snuffed out so she can pose in their pelts. There's no road to recovery for the foxes who are anally electrocuted so that you can look skanky..

Woooow… Los de PETA estaban F-U-R-I-O-S-O-S
[tags]Lindsay+Lohan, Kylie+Minogue, Eva+Longoria, Peor+Vestidas+2008+PETA, Aretha+Franklin[/tags]
[bgs]Lindsay Lohan, Eva Longoria, Kylie Minogue[/bgs]