Christina Aguilera es la imagen de joyas Stephen Webster
Christina Aguilera ha sido nombrada la nueva imagen de las Joyas Stephen Webster y aperece en su nueva campaña posando para unas hermosas fotografías inspiradas en las clásicas películas de Alfred Hitchcock. La campaña de Aguilera para la firma de joyas Stephen Webster hará su debut en Abril en la edición de la revista "W". Christina Aguilera is the new face of Stephen Webster's Jewelry campaign. Aguilera poses wearing some jewlry in a beautiful vintage Alfred Hitchcock inspired ads, which debut in the April issue of W magazine. She looks fantastic.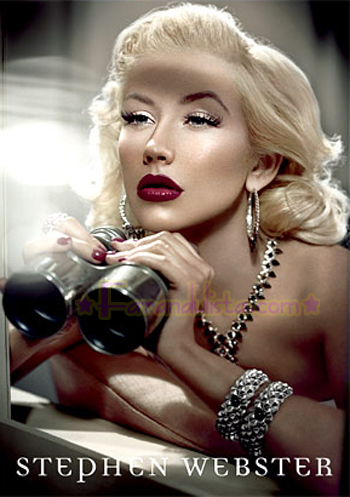 Christina Aguilera como una estrella de Hitchcock
en la campaña de joyas Stephen Webster

La segunda Colección, llamada "Superstud", es más punk dirigida ala generación jóven. La nueva colección de Stephen Webster Sterling será lanzada en el Baselworld en Basel, Switzerland a principios de este mes y será vendida exclusivamente en Neiman Marcus estea primavera con lanzamientos en otras tiendas después. The second collection, called "Superstud," is more punk which will appeal to the younger generation. The new Stephen Webster Sterling Collection will be launched at the Baselworld in Basel, Switzerland early this month and will be sold in Neiman Marcus exclusively this spring with a roll-out planned to other stores later."
usonline/xtinaweb/E!online
[tags]Christina+Aguilera, Stephen+Webster+Jewelry+ads, Christina+Aguilera+para+campaña+joyas+stephen+Webster[/tags]
[bgs]Christina Aguilera[/bgs]