Vanessa Hudgens no ha sido arrestada – La Historia es FALSA
Vanessa Hudgens (High School Musical) no ha sido arrestada por estar bebiendo con un grupo de amigos en Los Angeles, la historia es COMPLETAMENTE FALSA! No es la primera vez que surgen rumores que intentan dañar la imágen de los chicos de High School Musical, ya saben Zac y Vanessa, luego de las famosas fotos de Vanessa es fácil inventar cualquier historia, y además encontrar quien las crea. En Diciembre surgió una noticia que decía que Vanessa y Zac habían estado bebiendo en Lola's Bar, el escándalo del asunto es que ninguno tiene la edad reglamentaria para beber, 21 años. Pero fue solo eso, un rumor. Hace poco surgió una foto que decían era de Vanessa Hudgens y Zac Efron desnudos en la cama que también resultó ser …FALSA! Ahora está esta noticia que afirma que Vanessa Hudgens fue arrestada por estar bebiendo con unos amigos. Luego de tantos emails preguntando por este incidente, decidí buscar la "noticia" y no encontré nada… NADA. No había escuchado ni leído nada, ninguna de mis fuentes había hablado sobre el asunto. Finalmente conseguí algo, según parece, CosmoGirl publicó la noticia el dia 4 de Marzo – SIN CONFIRMAR LA FUENTE – y luego la eliminó. Cosmogirl citó a Back Seat Cuddler, quienes citaban a WHYfame quienes citaban a… NADIE! Cosmogirl en vez de informar en la misma noticia que la historia era falsa, les pareció mejor idea eliminarla. Lo gracioso de todo es que el día que afirman que Vanessa Hudgens fue arrestada, el Domingo 4 de Marzo en Los Angeles, y ella estaba en Texas filmando su próxima película "Will". Hay fotos y videos que lo confirman. So, no se puede creer todo lo que se lee y menos si no hay fuentes confiables que lo confirmen. Vanessa Hudgens never was arrested for underage drinking. This is a totally FALSE news! There are a lot of stories trying to crash the image of High School Musical stars, you know, Vanessa and Zac. At this time there is a news claims that Vanessa Hudgens was arrested for underage drinking. I recieved a lot of emails asking for this news, but I was like… WHAT? When? WHERE? VANESSA HUDGENS? REALLY? Ok, I decided to research on this and finally I found out the true… CosmoGirl reported the news on March 4 and it had no reliable source. Their source for their story, Back Seat Cuddler – which had sourced the website WHYfame, which in turn had sourced… nobody, reported that the supposed arrest took place on Sunday in Los Angeles. However, there are a lot of photos and reports that confirm that Vanessa Hudgens was actually in Texas on Sunday filming her upcoming movie Will. So, CosmoGirl turned down the story, you can't find it on the CosmoGirl website anymore. But Why they say the story was false instead to eliminated it? The created a really ugly news. It was so irresponsable.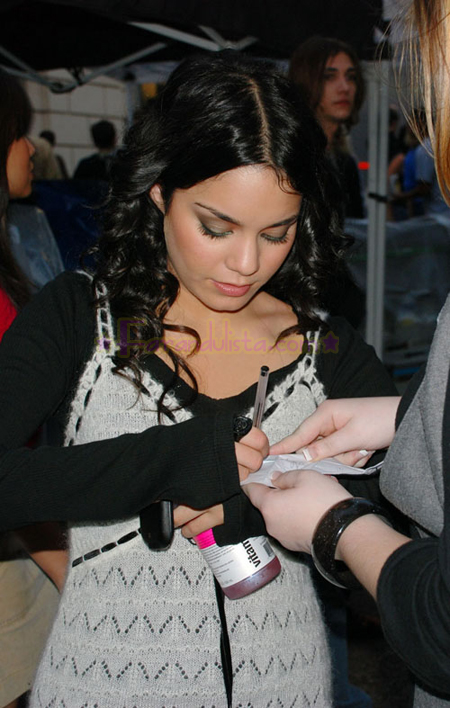 Vanessa Hudgens en el set de "Will" (3/03/08)
Screenshot del cache de Cosmogirl con la noticia falsa del arresto de Vanessa Hudgens

Dedicado a todos los Fans de Vanessa Hudgens!
[tags]Vanessa+Hudgens, Vanessa+Hudgens+arrestada+FAlso, Vanessa+Hudgens+no+fue+arrestada[/tags]
[bgs]Vanessa Hudgens, High School Musical[/bgs]