Jenna Jameson posó para PETA vestida con ropa interior de cuero falso (o imitación), para la Campaña "Pleather Yourself". Jenna – quien es conocida por ser la Reina del Cine para Adultos – es la prueba de que estos conjuntos de falso cuero son sexys, e invita a usar esta alternativa en vez de la animal. La nueva campaña de Peta invita a usar imitación de cuero y así evitar la matanza de vacas, cerdos y ovejas que viven vidas miserables en granjas industriales donde son maltratadas y castradas sin anestecia, por decir menos. Pueden bajar wallpapers de Jenna Jameson posando para la campaña "Pleather Yourself" en la página de PETA Jenna Jameson is the image in the new Peta Campaign "Pleather Yourself". The new Peta Campaign invites to use pleather instead animal leather, to avoid "cows, pigs, and sheep who are slaughtered for their skin endure miserable lives in factory farms, where extreme crowding, deprivation, unanesthetized castration, branding, and dehorning are common"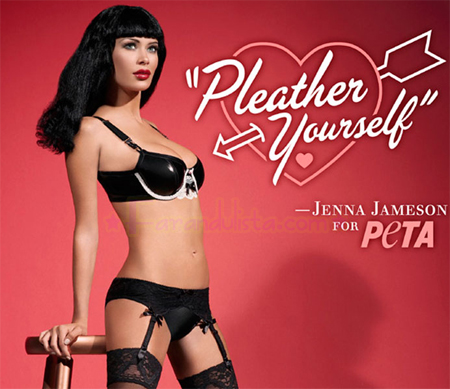 Jenna Jameson posa para la nueva campaña de Peta
" Pleather Yourself"
[tags]Jenna+Jameson, Peta+Pleather+yourself[/tags]
[bgs]Jenna Jameson[/bgs]