Vanessa Hudgens es una emo en la pelicula "Will"
Vanessa Hudgens (High School Musical) conversó con Entertainment Tonight sobre su próximo film "Will" – donde hace el papel de Sam una chica inadaptada atrapada en una guerra de bandas en su colegio – y sobre la escena de beso con Gaelen Collen (Will) en el film, a la que calificó de cómica y torpe. Además baby V admitió sentirse agradecida de no haber ido nunca al colegio. Vanessa Hudgens talked with Entertainment Tonight about her new movie, "Will," where she plays Sam, a teenage misfit caught up in her high school's battle of the bands. Nessa also talks on her kissing scene, she says it was funny and awkward kiss scene. Baby V admits she's happy she never went to high school.
[Sobre su personaje Sam] Mi look es definitivamente más oscuro que el de High School Musical. Soy tipo emo, una chica tipo en su propio mundo que se mantiene lejos de los demás. Ella viste mucho de negro. Siempre tiene mangas largas con los puños tapados. "My look is definitely more dark than in High School Musical. I play kind of the emo, kept away from everybody else in her own world' kinda girl. She wears a lot of black. She always has longsleeves with thumbs in them."
Honestamente, nunca fui a la secundaria. Fui educada en casa toda mi vida escolar. Parte de mi lamenta que no fuera. Vivo las experiencias de la secundaria a través de las películas que hago, todas parecen llevarse a a cabo en esa etapa. Pero perderme todo ese drama no es problema para mi. "Honestly, I never went to high school. I was home schooled all my high school years. Part of me wants to wish that I did go to high school. I'm living my high school experiences through the movies I do, all of them seem to take place in high school. But missing all the drama is not a problem with me."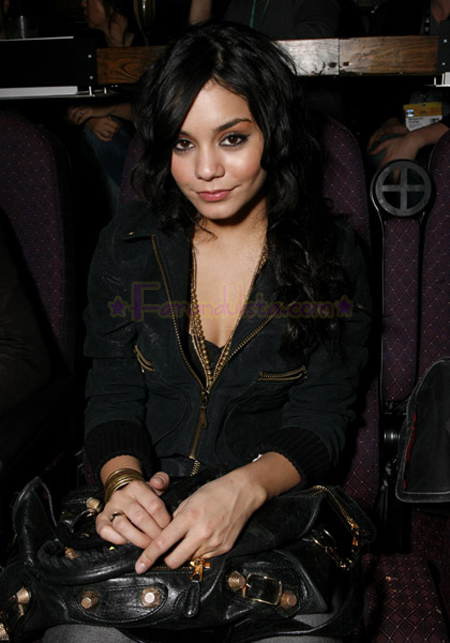 Vanessa Hudgens hace de chica emo en la pelicula "Will"
[tags]Vanessa+Hudgens, Will, Vanessa+look+emo+pelicula+Will[/tags]
[bgs]Vanessa Hudgens, High School Musical[/bgs]