Sarah Jessica Parker dolida por ser la menos sexy del mundo
Sarah Jessica Parker , Carrie Bradshaw en Sex and The City, ha expresado sentirse muy dolida y angustiada por haber sido votada la mujer menos sexy del mundo según Maxim. Jessica Parker ha hablado sobre el impacto que ha tenido el resultado de esa encuesta en ella y en su esposo Matthew Broderick (Godzilla).  Sarah Jessica la ha pasado mal desde que supo la noticia de que los hombres no la consideran sexy  como los anunciantes, afirmando que los resultados han sido brutales y han afectado a su esposo. Sarah Jessica Parker no será la mujer más sexy, pero su cuenta bancaria supera por mucho a sus compañeras de SATC, es la favorita por los anunciantes  y  es imagen de grandes firmas como Garnier y Gap.  Sarah Jessica Parker,  Carrie Bradshaw in Sex and the City,  has spoken out about the impact the Maxim magazine poll results had on her and her husband, Matthew Broderick.  Sarah Jessica has had a hard time dealing with the news that men do not find her as attractive as advertisers do, claiming the result of the Maxim poll was "brutal" and also affected her husband, actor Matthew Broderick. Sarah Jessica Parker is maybe not the sexiest woman alive, but she can take comfort in her bank balance, she is financially miles ahead of her SATC co-stars and is a favourite for advertisers, with high-profile companies, including Garnier and Gap
Parker dijo a Grazia: Tengo senos falsos enormes, Bótox o enormes labios? No. Parker told Grazia: "Do I have big fake boobs, Botox and big lips? No.
Encajo en algunos de los standares (de belleza) de algunos de los hombres que escriben en las revistas de hombres? Tal vez no. "Do I fit some ideals and standards of some men writing in a men's magazine? Maybe not.
Soy realmente la mujer menos sexy del mundo? Woow! Esto es demasiado brutal, lleno de rabia y cólera. Esto lo molestó (a su esposo Matthew) porque tiene que ver con su propio juicio también. Es una condena, es insano. Qué puedo hacer? Supongo que no puedes complacer a todo el mundo. "Am I really the unsexiest women in the world? Wow! "It's so brutal in a way, so filled with rage and anger. "It upset him (Broderick), because it has to do with his judgement too. It's condemnation, it's insane. What can I do? "I guess you can't please all people."
Qué opinan Farandulistas sobre esto, Les parece SJP sexy?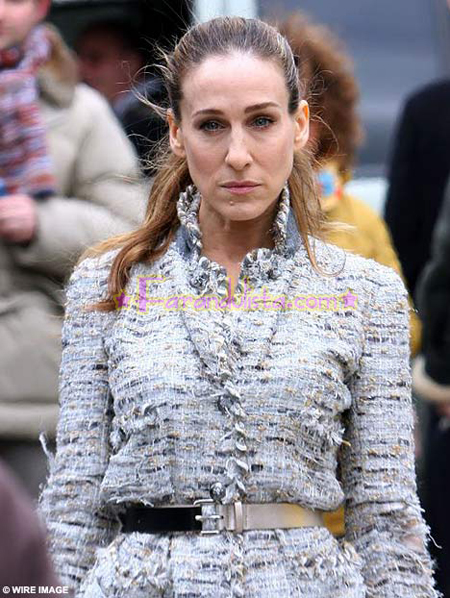 Sarah Jessica Parker sorprendida de ser la Mujer menos sexy del mundo