Jessica Alba en Marie Claire [Marzo]
Jessica Alba posa en la portada de Marie Claire, edición de Marzo 2008. Durante la entrevista Jessica habla sobre sexo, poder y el embarazo. La sesión de fotos incluye fotos de Alba en Harlem en el "Goddess Day" donde la actriz da una charla a las adolescentes sobre crecer siendo multiracial sin mucho dinero y trabajando en una industria sexista donde se duda de ti. Jessica Alba Poses on the March issue of Marie Claire magazine. Alba opens up on sex, power and pregnancy. The photoshot includes photos of Jess talking with teenagers at school. Alba talks about her own struggles: growing up multiracial without much money and working in an often sexist industry that sometimes doubts her.
En Hollywood ellos esperan que usted sea una cualquiera, [y] coquetee con todos los hombre. Pero no estoy haciendo eso. In Hollywood they expect you to be a little bit of a tart, to flirt with all the men. But I'm not doing that.
Cuando era pequeña, la identidad era importante para me porque yo no encajaba en una raza en particular. When I was a little girl, identity was a big deal to me because I didn't fit in with one certain race.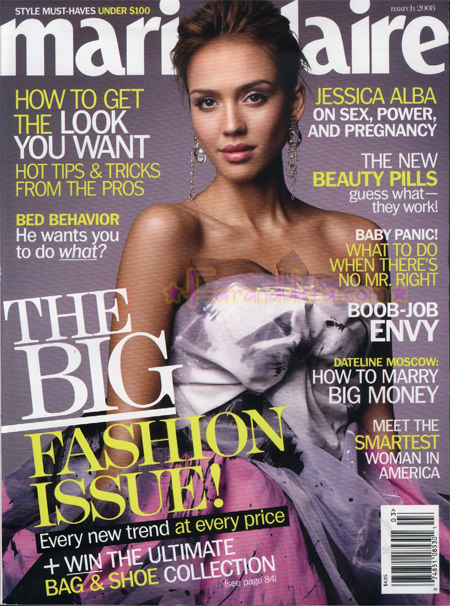 [tags]Jessica+Alba, Marie+Claire+Marzo+2008[/tags]
[bgs]Jessica Alba[/bgs]