Detalles de la boda de Beyonce y Jay Z – Es hoy en New York
Diversos reportes afirman que Beyonce y Jay Z se casan este viernes en la noche en New York. Cantidad de flores y candelabros han llegado al departamento de Jay-Z en Tribeca, incluso se puede ver una enorme carpa blanca en el último piso del edificio de departamentos. Los rumores de boda surgieron luego que Beyonce y Jay Z solicitaran la licencia de matrimonio este martes en Scarsdale. Una fuente le dijo a People que [la boda] es esta noche. Muchos de sus amigos están reservando habitaciones en los hoteles. Según The E-Biz, la lista de invitados es pequeña, solo hay preparadas unas 30 mesas. Los invitados deben vestir color marfil. El vestidor de Beyonce fue preparado en el gimnasio con flores. La ceremonia comenzará a la 4 p.m (OMG!) y la dirección de la boda no estaba en las invitaciones. OMG!! Beyonce and Jay Z are getting married!! And the wedding ceremony is today, according to sources, crews delivered floral arrangements, candelabras and a tent into Jay-Z's Tribeca apartment building today morning. A source told to People: "It's [happening] tonight," "A lot of their friends are booking hotel rooms." The E-Biz published juicy wedding details: Private affair in NYC (very small guest list!), Guests MUST wear all ivory, Tables were set for about 30, so the event will be intimate", Beyonce's dressing room is set up in gym with a vanity and flowers, Location was NOT on invitations, Ceremony to start at 4pm.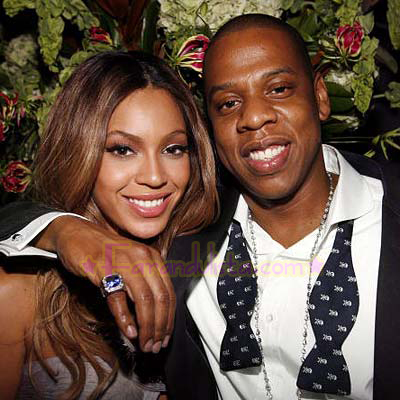 Beyonce y Jay Z uniran lazos este viernes
UPDATE! Sábado 5/04: People informa que Beyonce y Jay Z  ya están casados, aunque aún no hay ningún informe oficial. La noticia fue dada por un amigo de la pareja. La ceremonia fue seguida de una mágnífica fiesta en el departamento de Jay Z en Tribeca, en compañía de los padres de Beyonce y su hermana Solange, su compañera y amiga de Destiny's Child, Kelly Rowland y la amiga de la pareja Gwyneth Paltrow. So, Felicidades a Beyonce y a Jay Z en su nueva vida de casados! People reports exclusively Beyonce and Jay Z are married, a friend of the couple told the news. "The ceremony was followed by a lavish party at the rapper's Tribeca apartment that drew Beyoncé's mother Tina Knowles, her father/manager Mathew, her sister Solange, her Destiny's Child mates Kelly Rowland and Michelle Williams, and the couple's friend Gwyneth Paltrow." Congratulations to Beyonce and Jay Z!