Jessica Simpson en Esquire Magazine [Mayo]
Jessica Simpson posó para la portada de la edición de Mayo 2008 de Esquire magazine. Jessica aparece en la portada afeitándose el rostro, como lo hizo Virna Lisi en Marzo de 1965. Esquire está recreando la portadas más famosas del pasado, en celebración de sus 75 años. El detalle es que en su época la portada con Lisi era irónica, sexy y hasta graciosa y se convirtió en ícono por representar (en ese tiempo) una acción típicamente masculina, en cambio esta portada con Simpson es… extraña, Jess ni siquiera luce femenina. Sorry, Jessica Simpson no le hace justicia a esa portada.
Jessica Simpson poses for the May issue of Esquire Magazine recreating Virna Lisi's iconic cover from March 1965. Esquire magazine celebrates its 75th anniversary, and they are recreating iconic covers. The point is, Virna's was an ironic cover, she looks sexy and funny, but Jessica's is just an ungly and ridiculous cover ever. She doesn't look sexy or funny…
Qué opinan Farandulistas?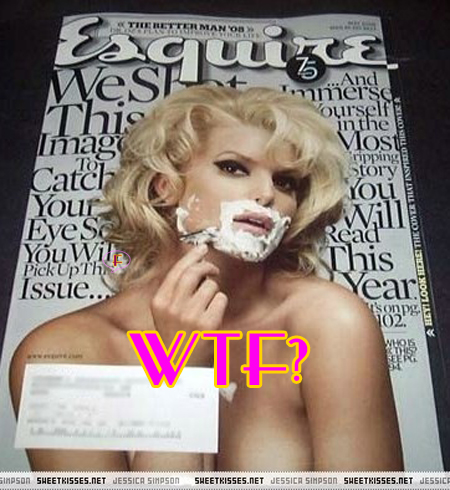 Jessica Simpson afeitándose en la portada de Esquire [Mayo 2008]


Portada original
Virna Lisi – Esquire Marzo 1965
sweetkisses.net/esquire