La rapida boda entre Beyonce y Jay Z genera especulaciones
La rápida boda entre Beyonce y su novio Jay Z ha generado especulaciones, entre ellas, la de que "quizá" Beyonce está embarazada. La pareja solicitó la licencia de matrimonio a comienzos de este mes (el 1 de abril) y cuatro dias después intercambiaron votos matrimoniales. Aunque ninguno de los representantes de las estrellas, Be o Jay, han desmentido o afirmado la posible llegada de un bebé, Beyonce expresó en el pasado que le encantaría tener una familia grande. Y no sería la primera vez que ocurre una boda relámpago en la familia Knowles, Solange, la hermana de Be, se casó a los 17 luego de enterarse que estaba en estado. Claro, si esto es solo un rumor y los recién casados no están esperando bebé, tienen mucho tiempo para practicar. Sinceramente no creo que haya sido una boda relámpago, ellos siempre fueron discretos en su relación, quizá era algo planeado y ya, la sorpresa fue para nosotros, ellos ya tenían mil años de novios. The fast wedding between Beyonce and Jay Z raise speculations. One of them, maybe Beyonce is pregnant and that's why she and Jay Z got their weekend's quickie nuptials. It would be the second for the Knowles' family: At just 17, Beyoncé's little sis, Solange, wed boyfriend after learning she was pregnant. While reps for both J and B are neither confirming nor denying baby talk, Beyonce has indicated in the past that she'd like a big family. If the newlyweds aren't yet expecting, they'll soon have plenty of time to practice.
Quiero casarme, y realmente deseo una familia. En un mundo perfecto tendria dos niños y una niña. "I want to get married, and I really want a family. In a perfect world I'd have two boys and a girl."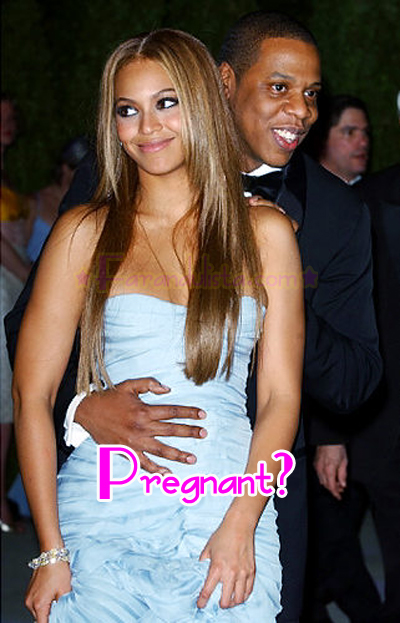 Beyonce se casó con Jay Z por estar embarazada?
[tags]Beyonce, Beyonce+embarazada+rumores+boda, Jay+Z+Beyonce+esperan+bebe+rumores[/tags]
[bgs]Beyonce, Jay Z[/bgs]