OMG! Ashlee Simpson embarazada? NO!
Ashlee Simpson está EMBARAZADA! según un reporte exclusivo de Us magazine. Ashlee Simpson y Pete Wentz anunciaron su compromiso el miércoles pasado, y Ash expresó que aunque esto era un asunto privado ella prefería anunciarlo por sí misma. Anyway, ahora falta que anuncien si está embarazada. El representante de Simpson no comentó al respecto. Ashlee Simpson is pregnant! According to Us magazine Ashlee Simpson is expecting her first child with her fiance Pete Wentz. The couple announced their engagement Wednesday. Ashlee Simpson's rep had no comment.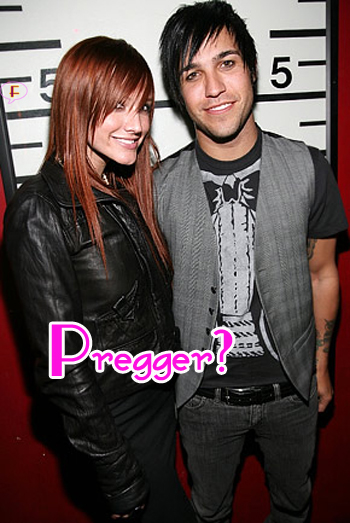 Ashlee Simpson esperando su primer hijo con Pete Wentz?
Eeehhh… NOPE!
UPDATE! MTV NEWS informa que ASHLEE NO ESTÁ EMBARAZADA, así lo ha confirmado PETE WENTZ. En un email enviado a MTV NEWS, Pete niega la noticia de que él y Ashlee están esperando su primer hijo, publicada inicialmente por OK! magazine este lunes y luego por US Weekly magazine. In an e-mail to MTV News, Pete Wentz denied reports that surfaced Monday (April 14) on the Web sites of OK! magazine and Us Weekly that he and Ashlee Simpson are expecting their first child.
Hay una cacería de brujas de gente embarazada luego que se comprometen en Hollywood, Todo esto es nuevo para mi. No puedo esperar por la historia sobre como yo estoy en una relación gay y esto es solo la portada… Realmente quiero decir, esto es una locura… Nos comprometimos, eso es verdadero, y estamos felices por eso. "There is a witch hunt for people to be pregnant whenever they get engaged in Hollywood," he wrote. "This is all news to me. I can't wait for the story about how I'm really in a gay relationship and this is all just a cover. … I mean really, this is crazy. … I mean we're engaged, that's true, and happy about it."
Cuando se le preguntó nuevamente a Pete si estaba negando los reportes de que Ashlee esta embarazada, él contestó: YEAH! Asked again if he was denying reports that Simpson is pregnant, Wentz replied, "Yeah."
[tags]Ashlee+Simpson, Ashlee+Simpson+embarazada[/tags]
[bgs]Ashlee Simpson[/bgs]