Lindsay y la DJ Samantha Ronson viven juntas casi (Updated!)
Lindsay Lohan y su amiga la DJ Samantha Ronson están prácticamente viviendo juntas. Según PageSix, Samantha Ronson, la mejor amiga de Lilo a pesar de que todavía tiene su propio departamento prácticamente se ha mudado con ella. Sam pasa todas las noches en la casa de Linds en un esfuerzo por mantenerla lejos de los problemas. Es bueno que Lindsay tenga amigos que se preocupen por ella, pero no era Sam la que estaba con ella cuando la fotografiaron con la boca abierta desmayada en el asiento de su auto? O cuando Lohan chocó su auto, Samantha no estaba con ella? Eeeehh, let me see… YEAH! So, esperemos que Sam mantenga a Lilo lejos de los problemas y sus vicios. Lindsay Lohan and her best friend DJ Samantha Ronson are practically living together. According to PageSix, Lohan's best friend, Sam Ronson, has "practically moved in" with Lilo at her Los Angeles house. "Sam still has her own place," said a source, "but she spends every night at Lindsay's" in an effort to keep the wild child out of trouble. It's a good thing Lohan has friends like Ronson. But Sam was with Lohan when she collapsed and was photographed with her mouth wide open and also when Linds crashed her car… So,… I hope Sam keeps Lindsay clean.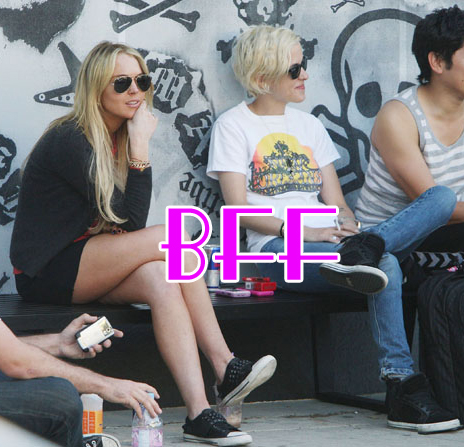 Lindsay y Samantha

UPDATE! Respondiendo a la pregunta enviada por varios Farandulistas: Lindsay Lohan y su amiga la DJ Samantha Ronson se casaron?
Star magazine (sip, Star) publicó hace una semana, que Lindsay Lohan se había casado con su mejor amiga (y supuesta novia) Samantha Ronson en una ceremonia privada en su residencia de Los Angeles a principios de Marzo.
Sam incluso compró dos anillos idénticos, dice un chismoso de Star. El de Lindsay dice SR [Samantha Ronson] y el de Sam dice LL [Lindsay Lohan] "Sam even bought matching rings," says one Star snitch. "Lindsay's ring says SR, and Sam's says LL."
Incluso un testigo dijo que Lindsay se refería a Samantha como su esposo durante una fiesta en su casa, el 14 de Marzo.
So… I don't think so…
[tags]Lindsay+Lohan, Samantha+Ronson+DJ, Lindsay+Samantha+viven+juntas[/tags]
[bgs]Lindsay Lohan[/bgs]