Jessica se embriaga el dia que Jen y Mayer hacen publica su relacion
Jessica Simpson tomó hasta embriagarse el mismo dia que Jennifer Aniston y John Mayer hicieron pública su relación. Qué tal? De acuerdo a Us Weekly Jessica bebió muchísimo el dia que John Mayer y Jen Aniston se dejaron ver como pareja. Jess Simpson estuvo cuatro horas bebiendo en el L.A's Mexicali Cocina Cantina el 10 de Mayo, fue tanto el licor, que Simpson dejó su Range Rover en el estacionamiento y tuvo que llamar a su madre para que le llevara a casa. Esa misma noche se reportó que el ex de Jessica – y según ella misma "próximo esposo" – Tony Romo estuvo de fiesta en Chicago solo, diciendole a sus amigos que era soltero otra vez! OMG!! Patética Jessica Simpson va de mal en peor!! Ha Jessica Simpson got drunk as John Mayer went public with his new relationship with Jennifer Aniston. According to Us weekly, Simpson was so wasted after four hour session of drinkink at L.A's Mexicali Cocina Cantina on May 10. She was reduced to leaving her Range Rover in the parking lot and calling her mon for a ride home. That same night her ex beau Tony Romo partied SOLO in Chicago and was happy telling friends he was single again. Ha ha! Jessica is pathetic!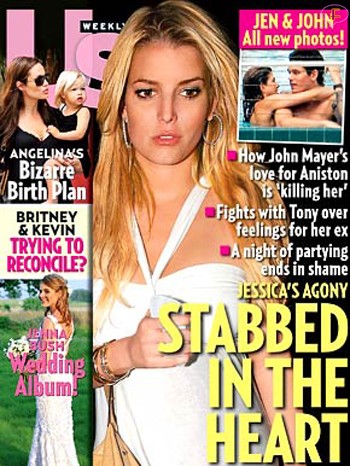 Jessica Simpson en la portada de Us Weekly
Según Us Weekly Jessica fue "apuñalada en el corazón" y está en agonia (drama queen!) El amor de John por Jen Aniston está matando a Jessica Patética. Supuestamente ella se peleó con Tony Romo porque todavía tenía sentimientos por su ex, o sea John Mayer. Una noche de fiesta que termina en verguenza… esta que estamos contando. Supuestamente a Jessica John la dejó, hay fotos de ellos peleandose y todo. Luego Jess aparece con Tony Romo de novia y llamándole next husband… Hello? Alguien está desesperado aquí y no es John.
[tags]Jessica+Simpson, Us+Weekly+Magazine, Jessica+se+emborracha+por+John+Mayer[/tags]
[bgs]Jessica Simpson[/bgs]