Hayden Panettiere odia la ley que prohibe beber antes de los 21
Hayden Panettiere (Claire, Heroes) odia la ley que prohibe beber antes de los 21 año, en USA. Hayden, de 18 años, tilda la ley (en USA) que prohibe a los menores de 21 tomar alcohol, de ridícula. La estrella de Heroes afirma que es muy feliz en Gran Bretaña donde puede ir a cualquier pub y pedir una cerveza sin tener que mostrar su identificación, porque la edad legal para beber es 18 años. Panettiere alega que la Ley en USA está pasada de moda y necesita ser reformada. Tiene toda la razón, me da gracia porque me parece estar leyendo la letra de Ricardo Arjona. Hayden Panettiere has criticised the U.S. for imposing strict age limits on teenagers – branding the legal drinking age of 21 as "ridiculous".The 18-year-old Heroes star insists she is much happier in Britain where the legal age limit on buying alcohol is 18 and she is able to get served in bars. Hayden insists America's age restrictions are old-fashioned and in desperate need of reform.

Puedo comprar pornografía o matar a alguien en la guerra pero no puedo tomar una copa de vino. Si pudiese cambiar algo en [Norte] América, sería el ridículo límite de edad de ciertas cosas. Por eso adoro visitar Gran Bretaña, puedo ir a un bar y ordenar una bebida sin tener que mostrar mi pasaporte. Eso es cool! "I can buy porn or kill someone in war but I can't have a glass of wine. If I could change one thing about America, it would be its ridiculous age limits on things."That's why I love visiting Britain. I can walk into a bar and order a drink without having to show my passport. That's so cool."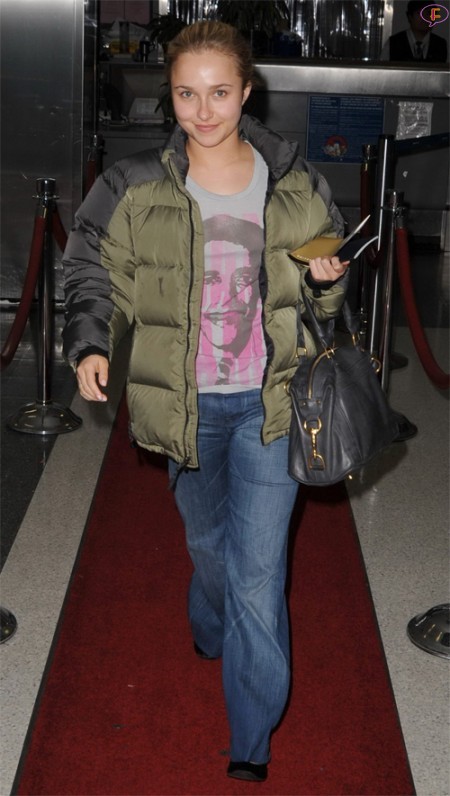 Hayden en el aeropuerto de L.A (04/05)
Aaahh… seguro que por eso tenían esa cara cuando fueron a Beso Restaurant! Eva no les vendió un trago. Imaginan las citas entre Milo y Hayden? Sí, por favor una cerveza. – La señorita? – Un vaso de leche.
[tags]Hayden+Panettiere, Hayden+panettiere+critica+ley+edad+para+beber+usa[/tags]
[bgs]Hayden Panettiere, Heroes[/bgs]