Portia De Rossi pesaba 38 kilos |Portia's Diet: 300 calories a day|
Portia De Rossi, esposa de Ellen De Generes, confesó que sufrió de desórden alimenticio y  llegó a pesar unos 38 kilos apróximadamente. WTF? La mujer era un esqueleto!! En Ally McBeal ella se veía tan frágil. Portia estuvo batallando contra un desórden alimenticio por años y fue muy franca durante una entrevista con Oprah Winfrey. Comentó que llegó a consumir solo 300 calorías diarias y su peso más bajo fue 38 kilos (82 pounds), Geeez! Cómo se mantenía de pie? Cuenta este terrible episodio de su vida en su libro Unbearable Lightness. De Rossi dice que no se siente orgullosa de esto, pero que sintió que era un reconocimiento a su autocontrol y que definitivamente tenía mucha fuerza de voluntad para llegar a pesar solo 38 kilos. Era lo único en lo que se mantenía, no pensaba en nada más. Pero eso es pasado, Portia hoy se ve delgada pero saludable. Recientemente, Portia tomó el apellido de su esposa Ellen y ahora será Portia De Generes aunque su apellido artístico sigue siendo de Rossi.
OMG!! Portia de Rossi confessed to Oprah Winfrey that she once had an eating disorder, weighted 89 pounds and only eat 300 calories a day. She tells her story in her recent book Unbearable Lightness. The 37 year old actrees talks about her battle with an eating disorder and how she was holding onto to and didn't think about anything else.
"It wasn't that I was proud of it," de Rossi clarifies. "But it was certainly a recognition for my self-control. I definitely had some pretty amazing willpower to get down to 82 pounds. And that's what I was holding onto to. I didn't think about anything else."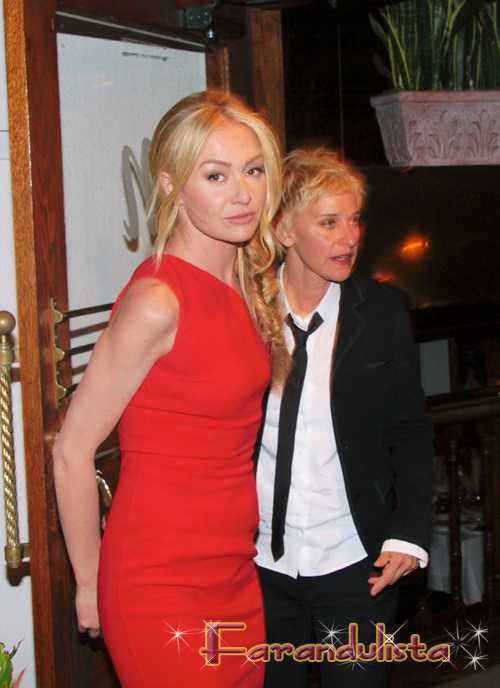 Portia de Rossi una vez pesó 38 kilos
Fame Pictures