Sam Smith triunfador de los Grammy 2015 – Ganadores
El cantante británico Sam Smith fue el gran triunfador de la noche de los Premios Grammy 2015, llevándose 4 estatuillas, incluyendo "Canción" y "Record del Año".
El grupo AC/DC abrió el show en Los Angeles con su famosa canción "Highway To Hell" y hasta el final, la audiencia estuvo de pie animando los artistas y a los ganadores.
Smith fue premiado por ser el único artista solo en vender más de un millón de copias de su album en los States y la UK en 2014.
Pharrel Williams, Beyoncé y Rossane Cash, hija del legendario Johnny, ganaron tres premios cada uno.
Beck se llevó dos Grammys, incluyendo Mejor Album. Pero la noche perteneció a Sam Smith, quien con este triunfo se ubica entre las más grandes estrellas pop a solo nueve meses de haber lanzado su primer disco "In The Lonely Hour".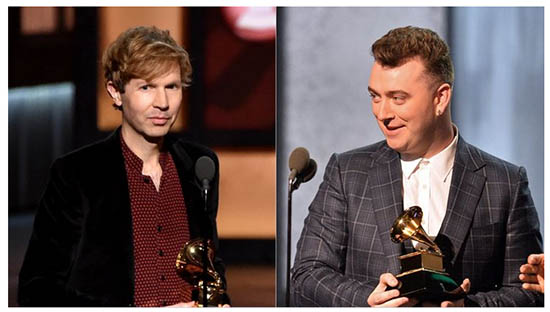 Beck y Sam Smith los triunfadores de la noche de los Grammy 2015
Madonna se presentó en los Grammy con bailarines medio desnudos con máscaras brillantes y cuernos para cantar "Living For Love", de su nuevo album "Rebel Heart". Sir Paul McCartney, Kanye West y Rihanna presentaron su canción "FourFiveSeconds".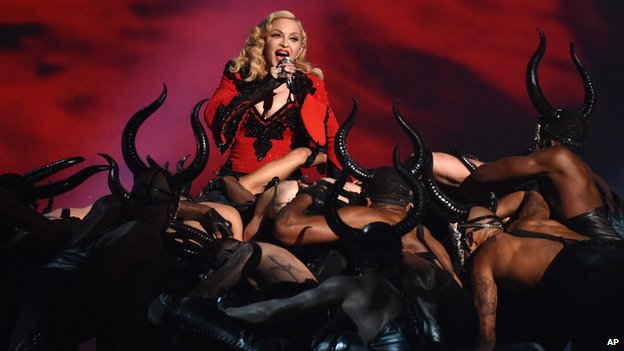 Madonna en el escenario de los Grammy


Sir Paul McCartney, Kanye y Rihanna
Pharrell Williams se llevó el Grammy por su disco "Girl" que fue el Mejor Album Contemporáneo del año, su canción "Happy" ganó Mejor video musical y Mejor Presentación en Solitario. Pharrell cantó su éxito junto al pianista Lang Lang y compositor Hans Zimmer. Pharrell estaba conmovido…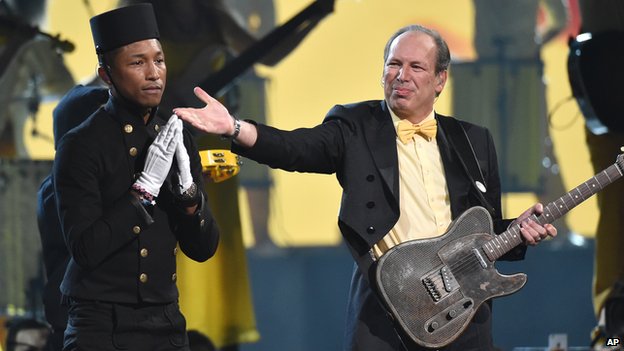 Pharrell Williams y Hans Zimmer
 ABCNews/BBCNews
La canción colaboración "Drunk In Love" de Beyoncé y su esposo Jay Z fue la Presentación R&B y Mejor Canción de ese género.
También hubo duetos en la noche más importante de la Industria Musical, Jessie J y Sir Tom Jones, Hozier and Annie Lennox y Lady Gaga y Tony Bennett.
Joan Rivers se llevó un Grammy Póstumo por su album "Diary of a Mad Diva" en la Categoria Best Spoken Word Album.
Pueden ver las lista completa de Ganadores del Grammy 2015 a continuación:
Record del Año- Record of the Year
"Stay with Me (Darkchild Version)," Sam Smith WINNER
Album del Año – Album of the Year
Morning Phase, Beck – WINNER
Mejor Nuevo Artista – Best New Artist
Canción del Año – Song of the Year
"Stay with Me," Sam Smith, songwriters Sam Smith, James Napier & William Phillips – WINNER
Mejor Presentación Pop Individual – Best Pop Solo Performance
"Happy," Pharrell Williams – WINNER
Mejor Presentación Pop Duo/ Grupo – Best Pop Duo/Group Performance
"Say Something," A Great Big World feat. Christina Aguilera – WINNER
Mejor Album Pop Vocal – Best Pop Vocal Album
In the Lonely Hour, Sam Smith – WINNER
Best Dance Recording
Rather Be, Clean Bandit Featuring Jess Glynne – WINNER
Best Dance/ Electronic Album
Syro, Aphex Twin – WINNER
Mejor Album Country – Best Country Album
Platinum, Miranda Lambert – WINNER
Mejor Presentación R&B – Best R&B Performance
Drunk in Love, Beyonce and Jay Z – WINNER
Mejor Album Rock – Best Rock Album
Morning Phase, Beck – WINNER
Mejor Canción Rock – Best Rock Song
"Ain't It Fun," Paramore, songwriters Hayley Williams and Taylor York – WINNER
Mejor Presentación Rock – Best Rock Performance
"Lazaretto," Jack White, songwriter Jack White – WINNER
Mejor Video Musical – Best Music Video
Happy, Pharrell Williams – WINNER
Mejor Album Alternativo – Best Alternative Music Album
St. Vincent, St. Vincent – WINNER
Mejor Album Urbano Contemporáneo – Best Urban Contemporary Album
G I R L, Pharrell Williams – WINNER
Mejor canción Country – Best Country Song
"I'm Not Gonna Miss You," Glen Campbell, songwriters Glen Campbell, Julian Raymond – WINNER
Mejor Presentación Individual Country – Best Country Solo Performance
"Something in the Water," Carrie Underwood – WINNER
Mejor Presentación Duo/Grupo Country – Best Country Duo/Group Performance
The Band Perry – "Gentle On My Mind" – WINNER
Best Traditional Pop Vocal Album
Cheek to Cheek, Tony Bennett & Lady Gaga – WINNER
Best Spoken Word Album
Diary of a Mad Diva, Joan Rivers – WINNER
Best Metal Performance
The Last in Line, Tenacious D – WINNER
Best Rap Album
Eminem – The Marshall Mathers LP2 – WINNER
Best Surround Sound Album
Beyoncé – Beyoncé – WINNER
Best Musical Theatre Album
Beautiful: The Carole King Musical – WINNER