Elenco de Star Wars en Vanity Fair. Carrie Fisher como Princesa Leia.
El elenco de la próxima Star Wars posó para las portadas de verano Vanity Fair dedicadas a "Star Wars: The Last Jedi", y la fallecida Carrie Fisher aparece en una de ellas en su memorable personaje de Princesa Leia.
Fotografiados por Annie Leibovitz en el set del tan anticipado film, las otras tres portadas muestran al resto del elenco, incluyendo a Daisy Ridley, Mark Hamill, John Boyega, Oscar Isaac, Adam River, Domhnall Gleeson, Gwendoline Christie y Kelly Marie Tran. Esta fue la última portada para la que posó Carrie Fisher.
Carrie Fisher, quien falleció en diciembre 2016 a los 60 años luego de sufrir un paro cardíaco, aparece sola en la portada de la edición de Vanity Fair, vestida como la Princesa Leia. Fisher logró filmar toda su parte en la película antes de morir.
El Presidente de Disney, Bob Iger dijo en una entrevista en una conferencia en la University of South California que Carrie aparecería a lo largo del film y su actuación permanece tal cual la realizó.
May the 40th be with you! Por los 40 años de Star Wars.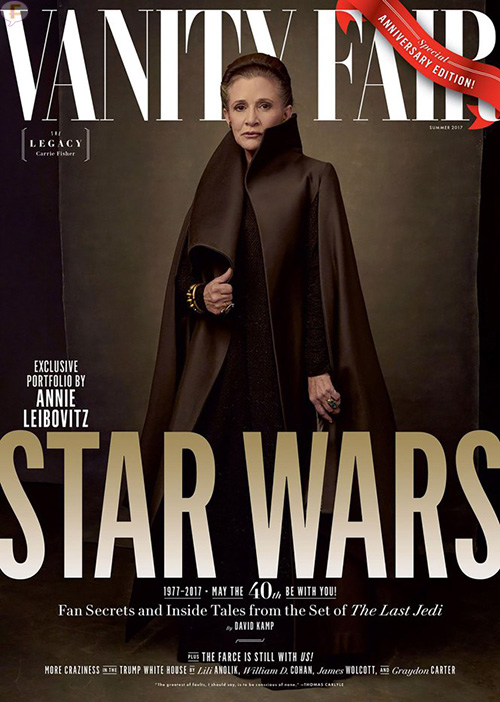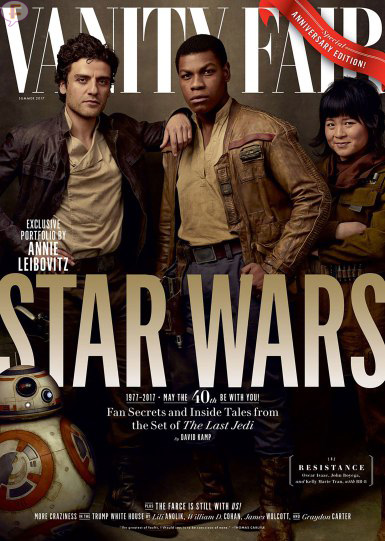 Oscar Isaac, John Boyega y Kelly Tran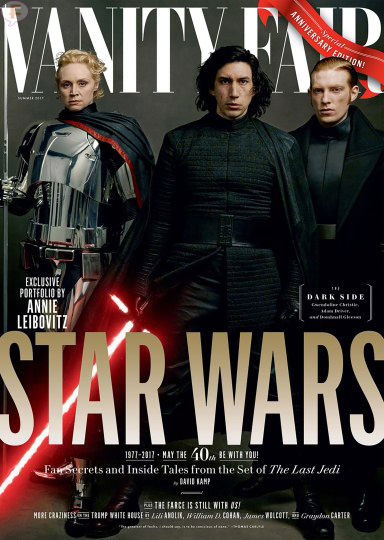 Gwendoline Christie, Adam Driver y Domhnall Gleeson
Daisy Ridley y Mark Hamill