Ganadores American Music Awards 2017- MOMENTOS!
Aquí está la lista de ganadores de los American Music Awards 2017 y algunos de los momentos que más llamaron la atención.  Este año la noche fue animada por Tracee Ellis Ross y hubo leyendas de la música, talentos nuevos, una banda de chicos amados internacionalmente, acrobacias en edificios y colaboraciones extrañas.
A continuación algunos de los momentos de los American Music Awards 2017 que llamaron la atención:
Pink y Kelly Clarkson cantando "Everybody hurts" de R.E.M. LOVE IT!!
Pink cantando "Beautiful Trauma" hacienda acrobacias colgada de la terraza del JW Marriott Hotel, WTF? Eso fue OMG!!! Parecía que flotaban en el aire… me gustó.
Selena Gomez cantando "Wolves" su colaboración con Marshmello WTF? La chica en medio de un accidente de auto sangrando en el escenario… toda una pesadilla… OVERREACTING MUCH! Según Billboard, esta fue una de las presentaciones más creativas y está entre las mejores… Okeeey.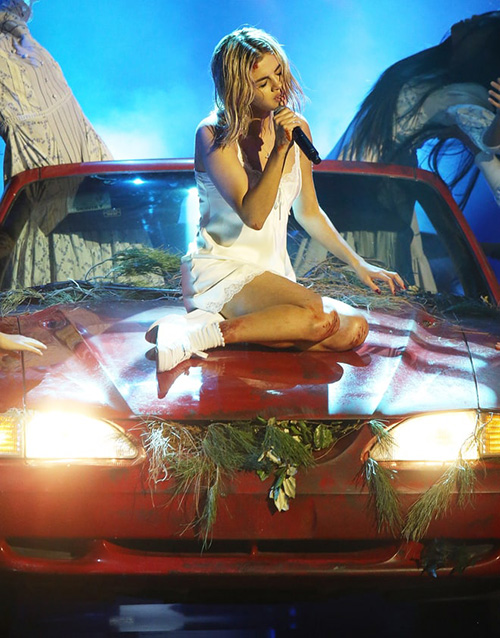 DJ Khaled al aceptar su premio por Canción Favorita Hip Hop "I'm The One" mencionó a Diana Ross diciendo que lla hacia el cover de su canción "All I Do Is Win" en sus conciertos. Yeap, la "Supremmes" canta la canción de DJ Khaled… she loves him.
Christina Aguilera honrando a Whitney Houston por los 25 años de la película "Bodyguard" y su banda sonora, cantó "I Will Always Love You," "I Have Nothing," "Run to You," y "I'm Every Woman." Las cámaras enfocaron a Pink, quien estaba mirando pensativa, y como no estaba riendo saltando de emoción la gente en Twitter empezó un CATFIGHT diciendo que Pink no estaba feliz con la presentación de la Aguilera quien lo hizo perfecto. Pink después respondió a esto diciendo que Christina lo había hecho excelente y que mejor mostraran el clip donde ella (Pink) estaba llorando por la presentación. WTF con la cara de Christina? Se infló la boca? Qué se hizo?
La presentación de la banda coreana BTS y su canción "DNA" fue el momento más emocionante de la noche para las fan quienes gritaron y lloraron a más no poder. LOL!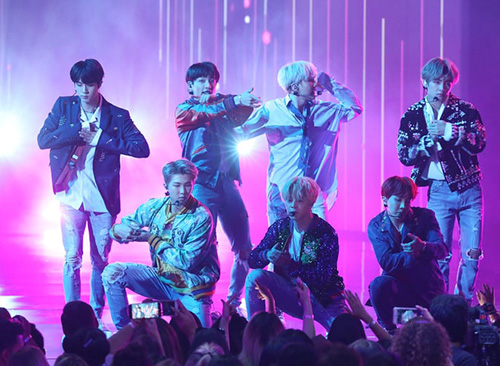 La hija de Jamie Foxx cantó junto a Shawn Mendes y fue cute, pero no sorprendió el hecho de que alguien de su edad sepa la canción "There's Nothing Holdin' Me back" lo que sorprendió es que Keith Urban se sabía toda la letra.
 Tracee Ellis Ross cantó junto a su madre "I'm Coming Up". Los nietos de Diana Ross subieron al escenario.
So, esos son algunos de los momentos de los AMAs 2017, aquí viene la lista de ganadores:
ARTISTA DEL AÑO – ARTIST OF THE YEAR
The Chainsmokers
Drake
Kendrick Lamar
Bruno Mars — WINNER
Ed Sheeran
ARTISTA NUEVO DEL AÑO – NEW ARTIST OF THE YEAR
James Arthur
Niall Horan — WINNER
Julia Michaels
Post Malone
Rae Sremmurd
COLABORACIÓN EL AÑOS – COLLABORATION OF THE YEAR
The Chainsmokers feat. Halsey, "Closer"
Luis Fonsi & Daddy Yankee feat. Justin Bieber, "Despacito" — WINNER
DJ Khaled feat. Justin Bieber, Quavo, Chance the Rapper & Lil Wayne, "I'm The One"
Maroon 5 feat. Kendrick Lamar, "Don't Wanna Know"
The Weeknd feat. Daft Punk, "Starboy"
GIRA DEL AÑO – TOUR OF THE YEAR
Garth Brooks
Coldplay — WINNER
U2
VIDEO DEL AÑO – VIDEO OF THE YEAR
Luis Fonsi & Daddy Yankee, "Despacito"
Bruno Mars, "That's What I Like" — WINNER
Ed Sheeran, "Shape of You"
ARTISTA FAVORITO DEL AÑO – POP-ROCK -FAVORITE MALE ARTIST – POP/ROCK
Drake
Bruno Mars — WINNER
Ed Sheeran
ARTISTA FEMENINA POP ROCK DEL AÑO – FAVORITE FEMALE ARTIST – POP/ROCK
Alessia Cara
Lady Gaga — WINNER
Rihanna
DUO O GRUPO FAVORITO DEL AÑO – POP-ROCK – FAVORITE DUO OR GROUP – POP/ROCK
The Chainsmokers
Coldplay
Imagine Dragons — WINNER
DISCO FAVORITO POP ROCK – FAVORITE ALBUM – POP/ROCK
Drake, More Life
Bruno Mars, 24K Magic — WINNER
The Weeknd, Starboy
CANCIÓN FAVORITA – POP- ROCK – FAVORITE SONG – POP/ROCK
The Chainsmokers feat. Halsey, "Closer"
Luis Fonsi & Daddy Yankee feat. Justin Bieber, "Despacito" — WINNER
Ed Sheeran, "Shape of You"
ARTISTA COUNTRY FAVORITO – FAVORITE MALE ARTIST – COUNTRY
Sam Hunt
Thomas Rhett
Keith Urban — WINNER
ARTISTA FAVORITA COUNTRY – FAVORITE FEMALE ARTIST – COUNTRY
Miranda Lambert
Maren Morris
Carrie Underwood — WINNER
DUO GRUPO FAVORITO COUNTRY – FAVORITE DUO OR GROUP – COUNTRY
Florida Georgia Line
Little Big Town — WINNER
Old Dominion
DISCO FAVORITO COUNTRY – FAVORITE ALBUM – COUNTRY
Jason Aldean, They Don't Know
Chris Stapleton, From a Room:, Vol. 1
Keith Urban, Ripcord — WINNER
CANCIÓN COUNTRY FAVORITA – FAVORITE SONG – COUNTRY
Sam Hunt, "Body Like a Back Road"
Jon Pardi, "Dirt on My Boots"
Keith Urban, "Blue Ain't Your Color" — WINNER
ARTISTA FAVORITO RAP/HIP-HOP – FAVORITE ARTIST – RAP/HIP-HOP
Drake — WINNER
Kendrick Lamar
Migos
DISCO FAVORITO RAP/HIP-HOP – FAVORITE ALBUM – RAP/HIP-HOP
Drake, More Life
Kendrick Lamar, DAMN. — WINNER
Migos, Culture
CANCIÓN FAVORITA – RAP/HIP-HOP – FAVORITE SONG – RAP/HIP-HOP
DJ Khaled feat. Justin Bieber, Quavo, Chance the Rapper & Lil Wayne, "I'm The One" — WINNER
Kendrick Lamar, "Humble."
Rae Sremmurd feat. Gucci Mane, "Black Beatles"
ARTISTA FAVORITO – SOUL/R&B – FAVORITE MALE ARTIST – SOUL/R&B
Childish Gambino
Bruno Mars — WINNER
The Weeknd
ARTISTA FAVORITA SOUL/R&B – FAVORITE FEMALE ARTIST – SOUL/R&B
Beyonce — WINNER
Kehlani
Rihanna
DISCO FAVORITO SOUL/FAVORITE ALBUM – SOUL/R&B
Childish Gambino, Awaken My Love!
Bruno Mars, 24K Magic — WINNER
The Weeknd, Starboy
CANCIÓN FAVORITA SOUL/R&b – FAVORITE SONG – SOUL/R&B
Khalid, "Location"
Bruno Mars, "That's What I Like" — WINNER
The Weeknd, "Starboy"
ARTISTA FAVORITO – ROCK ALTERNATIVO – FAVORITE ARTIST – ALTERNATIVE ROCK
Imagine Dragons
Linkin Park — WINNER
Twenty One Pilots
ARTISTA ADULTO CONTEMPORANEO – FAVORITE ARTIST – ADULT CONTEMPORARY
Bruno Mars
Shawn Mendes — WINNER
Ed Sheeran
ARTISTA LATINO FAVORITO – FAVORITE ARTIST – LATIN
Luis Fonsi
Daddy Yankee
Shakira — WINNER
ARTISTA FAVORITO CONTEMPORÁNEO INSPIRACIONAL – FAVORITE ARTIST – CONTEMPORARY INSPIRATIONAL
Lauren Daigle — WINNER
MercyMe
Chris Tomlin
ARTISTA FAVORITO FAVORITE ARTIST – ELECTRONIC DANCE MUSIC (EDM)
The Chainsmokers — WINNER
Calvin Harris
DJ Snake
MEJOR BANDA SONORA – TOP SOUNDTRACK
Guardians of the Galaxy, Vol. 2: Awesome Mix Vol. 2
Moana — WINNER
Trolls