Lindsay Lohan ahora es rubia
Lindsay ha pasado de morena a rubia en tres dias! La Lohan ha decidido volver a su cabellera rubia, imagino que tratando de renovarse un poco. Se dice que pasó 8 horas en la peluquería tratando de suavizar el tono de su cabello. El 6 de Marzo fue al Neil George salon en Beverly Hills, y salió con ese tono rubio "strawberry". Finalmente ella se volvió rubia al dia siguiente… Creo que para que se vea bien rubia-rubia tiene que quitarse ese bronceado falso tan asqueroso. Debe alejarse de ese color bronce, el color strawberry estaba bien, muchos aseguran que el color para ella es el oscuro. Yo creo que pelirroja luce más bonita.  La Lohan goes blonde. She spent 8 hours in the hair salon treating to smooth the tone of her hair. On march 6 she  hit the Neil George salon in Beverly Hills and went strawberry blonde. She returned to the salon again on March 7 to go full-on blonde. Mmm… The strawberry is also very nice but she needs to step away from the bronzer. Lay off the fake tanner!!! I think red hair looks most beautiful on Lindsay, I don`t know, many people think that the color for her is the dark.
 usmagazine.com

Tres dias, tres colores!
Dia 2 en Mr.Chow / Day 2 At Mr.Chow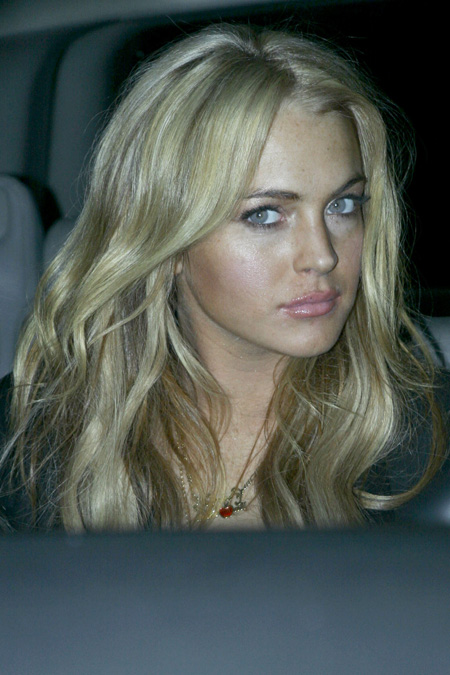 Dia 3… Rubia! / Day 3 Blonde!
Click para agrandar / Click to enlarge
Tú qué opinas? / What do you think?