Salma Hayek está embarazada!
Oooh! Recuerdan la noticia y fotos de Salma como una vaca? No está regorda… está Embarazada!! (siento lo que dije) Una mujer embarazada merece todo respeto.
Salma Hayek se reporta no solo comprometida, si no también Embarazada!! Todos pensabamos (así dice la noticia, conste!) que ella era la amiga especial de Penélope Cruz. La historia fue dada a conocer por el buen amigo de Salma,  Ben Widdecombe, quien escribe en la columna que lleva su apellido, en el New York Daily. La representante de Salma Ina Treciokas, dio el siguiente comunicado a Widdicombe: Salma Hayek is reportedly not only engaged, but pregnant! Gasp! And we all thought she was Penelope Cruz's very special lady friend! The story was first leaked by Salma's good friend Ben Widdecombe, who writes the Gatecrasher column that runs in the New York Daily News. Salma's  publicist, Ina Treciokas of ID PR gave Widdicombe the following statetment: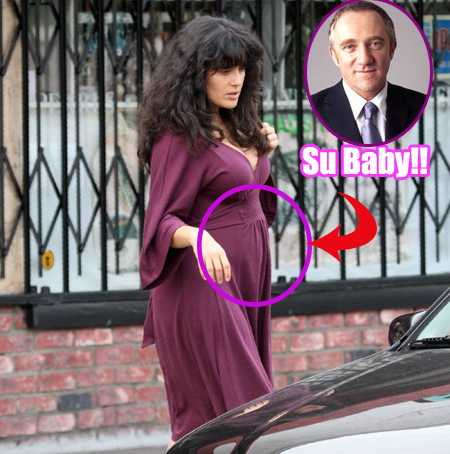 El hombre de Negocios Francois-Henri Pinault, y su prometida, Salma Hayek, estan felices de anunciar que están esperando su primer hijo. Businessman Francois-Henri Pinault, and his fiancee, Salma Hayek, are happy to announce that they are expecting the arrival of their first child.
Oooh Felicidades a Salma!!   Congratulations Salma!!